Roberto Angelini e Rodrigo D'Erasmo intervista, ottobre 2020
L'11 ottobre al Teatro Manzoni di Pistoia ultimo appuntamento del 2020 per "Way to Blue" –  l'omaggio a Nick Drake di Roberto Angelini e Rodrigo D'Erasmo – e ultimo appuntamento di Blues Around, lo spin-off del Pistoia Blues Festival.
Un'edizione a trazione fortemente ridotta rispetto al calendario previsto ma che non ha lesinato di offrire tanti bellissimi eventi, potendo contare su un calendario ampio, ben strutturato e molto variegato. Qualità della musica in primis, tante le proposte, ma soprattutto sicurezza, dotazione imprescindibile senza la quale niente sarebbe stato possibile. Complimenti agli organizzatori, quindi, e a tutti gli addetti che dietro le quinte hanno lavorato e lavorano duro al fine di poterci offrire emozioni e sensazioni uniche e di poterle vivere in totale sicurezza.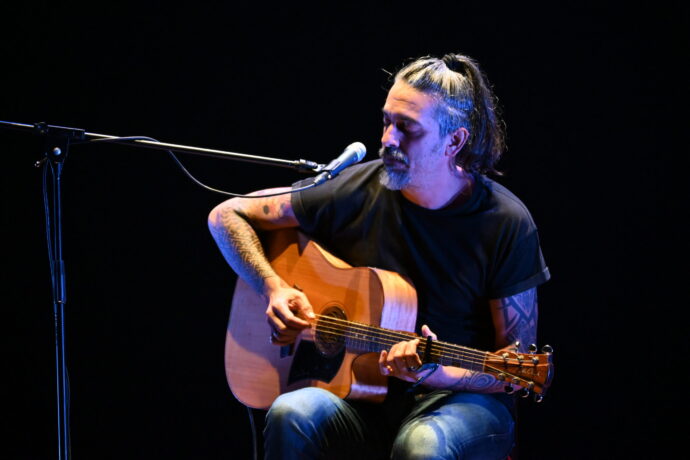 Domenica sera un omaggio è arrivato anche da Roberto Angelini e Rodrigo D'Erasmo, i quali hanno rivolto un pensiero a loro e a tutto il settore concertistico, travolto da una crisi senza precedenti, che ha portato in piazza sabato a Milano oltre 500 persone per la manifestazione dei #BauliInPiazza. Noi tutti di Rock Nation ci uniamo a loro.
Ma noi di Rock Nation eravamo nello splendido teatro pistoiese non solo per godere dell'ottima musica proposta dall'ormai inossidabile duo, ma anche per rivolgere loro qualche domanda prima del live che li vedrà protagonisti di lì a poco. Sono da poco passate le 18.30, incontriamo prima Bob Angelini che ci accoglie subito in modo molto confidenziale, Rodrigo ci raggiungerà poco dopo. Il dubbio su dove svolgere l'intervista verrà spazzato via immediatamente nel momento in cui ci viene proposto di condurla sul palco, con le spalle verso la platea: un contesto molto suggestivo che lascia senza fiato. Nel momento in cui inizi a parlare di Nick Drake, immediatamente, vieni catapultato in un altro mondo, il suo, sensazione confermata anche da entrambi i musicisti.
Subito un personale ringraziamento per esser tornati a parlare e suonare Drake, per aver permesso a molti di noi di scoprirlo e riscoprirlo.  Il resto scorre velocemente, si parla della genesi e dell'influenza che tutto questo ha avuto su di loro e di quel che sarà di "Way to Blue". Rassicura il fatto che è un progetto destinato a evolversi e a proporsi ancora, mantenendo saldamente la sua origine semplice, umile, esattamente come era l'artista.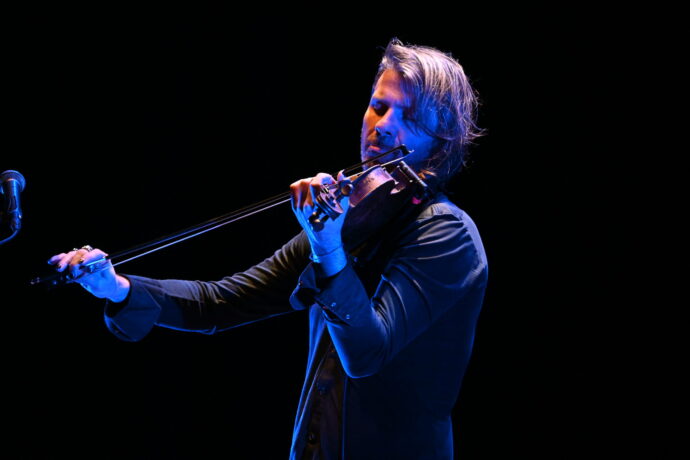 Se pensiamo che Drake non ha mai avuto l'opportunità, durante la sua carriera, di esibirsi in un luogo così meraviglioso come il Teatro Manzoni – capace di rendere grazia alla sua musica – sale una nota di malinconia; ma tutti noi, stasera, siamo qui per rendergli ciò che si merita: un sentito omaggio rivolto da parte di Roberto Angelini e Rodrigo d'Erasmo che arriva diretto dalle corde dei loro strumenti e dalle corde della loro anima.
Articolo di Andrea Scarfì, video di Marco Polidori, foto articolo di Francesca Cecconi, foto homepage di Marco Polidori e di  Andrea Scarfì
Intervista a Roberto Angelini e Rodrigo d'Erasmo
Set list Way to Blue Pistoia 11 ottobre 2020
'Cello Song
2. Three Hours
3. Day Is Done
4. Time Has Told Me
5. River Man
6. Way To Blue
7. Fruit Tree
8. Northern Sky
9. From The Morning
10. Know
11. Place To Be
12. Parasite
— Encore —
Saturday Sun
Pink Moon
Roberto Angelini – Voce e  chitarra
Rodrigo d'Erasmo – Violino
Condividi su: