The Baboon Show, intervista a Niclas Svensson
The Baboon Show si sono formati a Stoccolma alla fine del 2003, e da allora hanno portato i loro live iperenergetici in giro per il mondo, fino in Cina e Cuba, facendosi la reputazione di essere una delle migliori band al mondo sul palco. Agganciatevi le cinture, suoneranno in agosto al Bay Fest di Rimini!
Dalla Svezia ai palchi europei, avete fatto un percorso denso d'incisioni e live, creando un pubblico affezionato ovunque grazie a un mix perfetto di energia, impegno, coerenza. Chi sono The Baboon Show?
The Baboon Show sono Cecilia Boström alla voce, Håkan Sörle alla chitarra, Frida Ståhl al absso e io, Niclas Svensson, alla batteria. La band è nata alla fine del 2003. Adoriamo anadre in tour e portare il nostro show di Punk Rock'nRoll ad alto voltaggio sui palchi in giro per il mondo. Per quanto riguarda l'Italia, abbiamo fatto solo due spettacoli in piccoli club qualche anno fa, a Milano e Torino, ma non vediamo l'ora di ronare! Ci vediamo nel 2021 al Punk in Drubic festival e al Bayfest, sarà un'esplosione!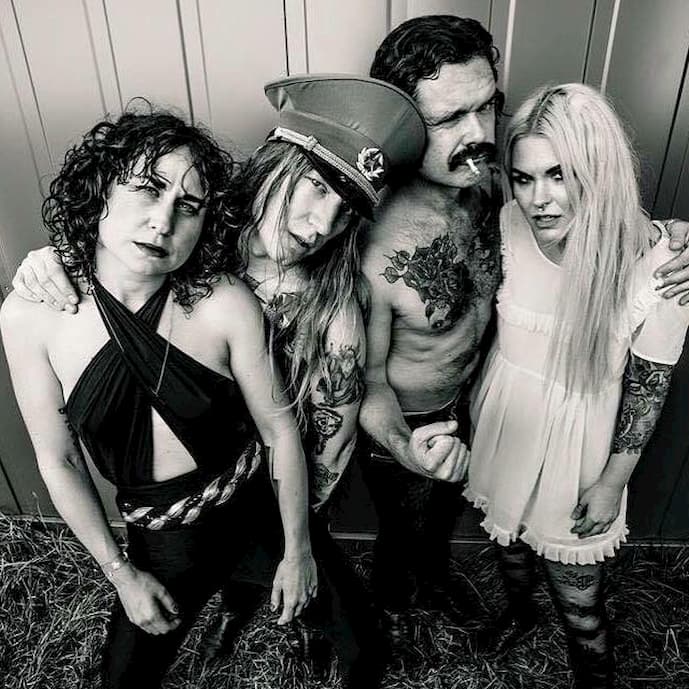 Come nascono i vostri pezzi così esplosivi? Partite da delle jam in sala prove oppure scrivete durante i tour? Vi occupate personalmente degli arrangiamenti?
Normalmente uno di noi ha un'idea per una canzone, una melodia, un pezzetto di testo, un riff o qualcosa. Poi lavoriamo insieme sul resto. Prendiamo tutti parte all'arrangiamento.
I testi sono costruzioni testuali semplici, nella miglior tradizione del genere, ma allo stesso tempo densi di significati, piccole storie che si dipanano attraverso il sentire, spesso inespresso, delle persone comuni. Come nascono?
Sì, noi siamo persone normali della working class e condividiamo le nostre visioni dalla stessa prospettiva di persone come noi. Parliamo di semplici verità su tutta l'ingiustizia di questo mondo, causata dal sistema neoliberista. Non è poi così difficile trovare ispirazione per i testi con tutto il capitalismo e il fascismo che ci circonda.
Una line-up sostanzialmente stabile sin dagli esordi, avete cambiato nel tempo soltanto la bassista, ma sempre donna, scelta non facile ma ricercata e voluta?
Abbiamo sempre voluto essere una band paritaria. È naturale per noi e non vorremmo fosse in nessun altro modo.
Un amore per Cuba che vi ha portato anche a incidere un album con musicisti cubani. Un approccio non solo alla musica, ma anche a una certa visione politica e sociale. Cuba sta cambiando, pensate che certi valori potranno essere preservati? Come vedete e sentite i cambiamenti sociali dovuti alla globalizzazione?
Ci siamo divertiti moltissimo a incidere quell'album all'Havana! Cuba sta cambiando, è vero, ma la visione di base sulla rivoluzione e la sua necessità è sempre forte per la maggior parte dei cubani. L'indipendenza cubana è avvenuta con la rivoluzione, e l'indipendenza significa per i cubani molto di più che per le persone in qualsiasi paese occidentale. Noi la diamo spesso per scontata. I cubani hanno dovuto combattere per riprendersi il loro paese in mano agli imperialisti statunitensi. Dopo la nostra visita all'isola, la mia visione è che lo spirito della loro storia e della rivoluzione è stabile. Viva la Rivoluzione!
Infine, cosa pensate dell'attuale scena musicale internazionale punk rock'n'roll? C'è qualcosa che ancora vi ispira o stimola?
Ci sono molte buone band punk e rock ovunque nel mondo, sia vecchie che nuove. Una cosa è certa. Questa è una scena che non morirà mai e noi siamo orgogliosi di farne parte!
The Baboon Show – interview to Niclas Svensson
From Sweden to European stages, you have made a perfect mix of energy, commitment and consistency. Who are the Baboon Shows? 
The Baboon Show are Cecilia Boström – vocals, Håkan Sörle – guitar, Frida Ståhl – bass and me, Niclas Svensson – drums. We started the band in late 2003. We love going on tour and take our high voltage punk rock'n'roll show to the venues and stages across the world. So far we've only done two smaller club shows in Italy some years ago. It was in Milano and Torino. We can't wait to come back! See you again next year Italia at the Punk in Drublic festival and Bayfest! Gonna be a blast!
 How are your explosive pieces born? Do you start from jam in the room try or write during the tour? Do you personally deal with the arrangements?
Normally one of us has an idea for a song, a melody, some text, a riff o  something. Then we work on the rest together. We're all taking part in the arrangement.
The texts are simple textual constructions, in the best tradition of the genre, but at the same time full of meanings, small stories that unfold through the often unspoken feeling of ordinary people…
Yes, we're normal working class people and we share our views from the same perspective as most people like us. Simple truths about all the injustice in this world, caused by the neo-liberal system. It's not that hard to find inspiration for lyrics with all the capitalism and fascism going on everywhere.
A substantially stable line-up from the beginning, have you changed over time only the bass player, but always a woman, a choice that is not easy but sought after and desired?
We've always wanted to be an equal band. It's natural to us and we wouldn't want it any other way.
A love for Cuba that has also brought you an recording in an album with Cuban musicians. An approach not only to music, but also a certain political and social vision. Cuba is changing, do you think certain values can be preserved? How do you see and feel the social changes necessary for globalization?
We had so much fun recording that album in Havana! Cuba is changing yes, but the basic views about the revolution and its necessity still lives strong among the majority of the Cuban people. The Cuban independence came with the revolution. Independence means more to the Cubans than to the people in a random western country. We sometimes take it for granted. The Cubans had to fight to take back their country from the US imperialists. After four visits to the island, my view is that the spirit of their history and the revolution is still going strong. Viva la Revolución!
Finally, what do you think of the current international punk rock music scene? Is there anything that still inspires or stimulates you?
There are so many good punk and rock bands out there everywhere on the planet, both old and new. One thing is for sure. This is a scene that will never die and we are proud to be a part of it!
Articolo di Francesca Cecconi
Condividi su: