Need "Norchestrion, a song for the end", Ikaros Records 2021
"Norchestrion, a song for the end" è il nuovo album della band greca Need, disponibile dal 12 gennaio 2021 su etichetta Ikaros Records. Il Prog Metal può definirsi un genere diviso tra innovatori e tradizionalisti.  Negli ultimi vent'anni abbiamo visto band metalcore diventare progressive (esempio The Contortionist, Architects, The Ocean e  Moon Tooth) e abbiamo visto nascere un genere che può considerarsi una sua costola, il Djent.
Parte della produzione più ostica da ascoltare è nata dai vecchi alfieri del Black Metal ormai uomini maturi (mi riferisco specialmente all'ex Emperor Ihsahn) e abbiamo visto pure affermarsi nuove band che davvero stanno provando a dire qualcosa di nuovo (esempio i Caligula's Horse). In ultima istanza ci sono gli Opeth, faro guida per tutto e tutti (potevo anche non citarli vista la loro grandezza)  non catalogabili per loro natura, con un livello di produzione musicale sempre di altissimo livello.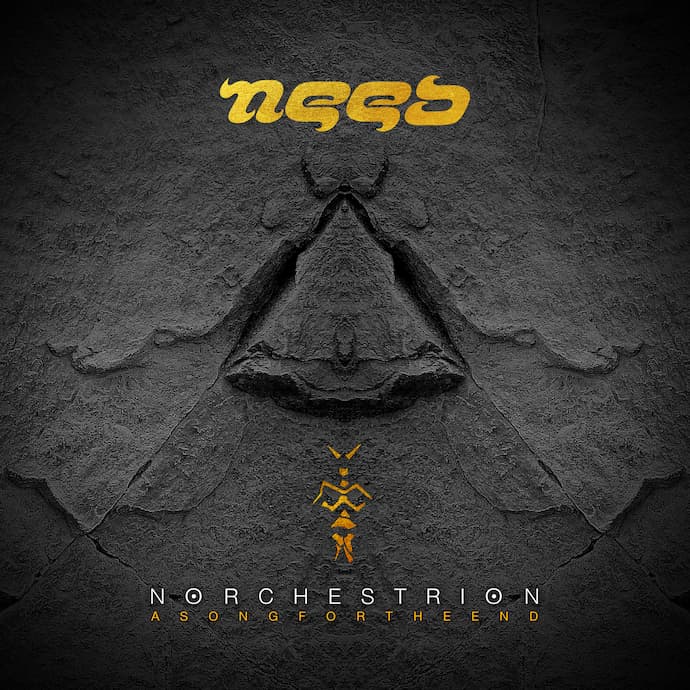 I Need in questo scenario si possono mettere tra quelli che stanno cercando di produrre qualcosa di personale pur rimanendo fedeli al passato: la band greca, attiva da ormai 15  anni, deve gran parte del suo sound ai Pain of Salvation e ai Fates Warning, radice arricchita da un altro aspetto, l'influenza di band come i Mudvayne (ben evidenti in particolar modo nelle linee di basso e negli sporadici growling) e melodie tipicamente mediorientali che vanno a creare un trademark piuttosto personale (scelta stilistica che ha reso famosi i loro vicini di casa Orphaned Land).
"Norchestrion, a song for the end" probabilmente costituisce il nuovo capitolo di una serie iniziata con "Orvam: a song from Home" del 2014 e ha delle tinte decisamente dark rispetto al predecessore "Hegamaias: a song for freedom", disco del 2017 molto spontaneo e imprevedibile all'ascolto. É costituito da 9 tracce, per un totale di 66 minuti di musica. Ogni traccia potrebbe definirsi autoconclusiva, al di là di una melodia presente nella prima canzone "Avia" che ricorre spesso per tutta la durata dell'album.
Musicalmente parlando, il lavoro si regge sul lavoro chitarrista George Ravaya, capace di variare registro con estrema disinvoltura e muoversi con estrema scioltezza e spontaneità tra poliritmie e tempi dispari, tra linee di chitarra compresse e altre ariose e melodiche, e su quello del batterista Stelios Paschalis, un tocco molto leggero, quasi jazz, in grado però di spingere quando è necessario. Su questa base poi gli altri strumenti compiono un lavoro egregio di arricchimento, mentre il cantante Jon Voyager si può tranquillamente esprimere col suo bagaglio canoro più figlio dell'Hard Rock che del Metal. L'unico difetto dell'album è forse la noia che a volte irrompe, difetto intrinseco al genere e nel quale sono cadute pure band come i Dream Theater e i già citati Pain of Salvation.
"Norchestrion, a song for the end" sicuramente non è un capolavoro, ha un po' perso rispetto all'album precedente per la qualità generale dei brani, però ha raffinato il sound generale dei Need e li potrebbe consacrare a certezza del panorama musicale mondiale. Potrebbe anche considerarsi un nuovo punto di partenza per evoluzioni future. L'inventiva e la personalità di certo non mancano.
Articolo di Giorgio Cappai
Tracklist "Norchestrion, a song for the end"
Avia
Beckethead
Nemmortal
Bloodlux
V.a.d.i.s.
Norchestrion
Circadian
Ananke
Kinwind
Line-up Need
Jon Voyager – vocals/ George Ravaya – guitar, vocals Anthony Hadjee – keyboards, vocals /Stelios Paschalis – drums/ Viktor Kouloubis – bass
Condividi su: