Slinky Vagabond "King Boy Vandals", 2021
Cosa vuol dire essere un musicista indipendente nel 2021? Quali sono le condizioni base per ritenersi indipendente? Quali i pro e i contro? In un momento storico in cui la musica "liquida", priva di supporto, ha preso il sopravvento, in cui il fai da te è il nuovo verbo, continuo ancora a nutrire dubbi e perplessità su chi possa realmente definirsi indipendente e chi pensa di esserlo.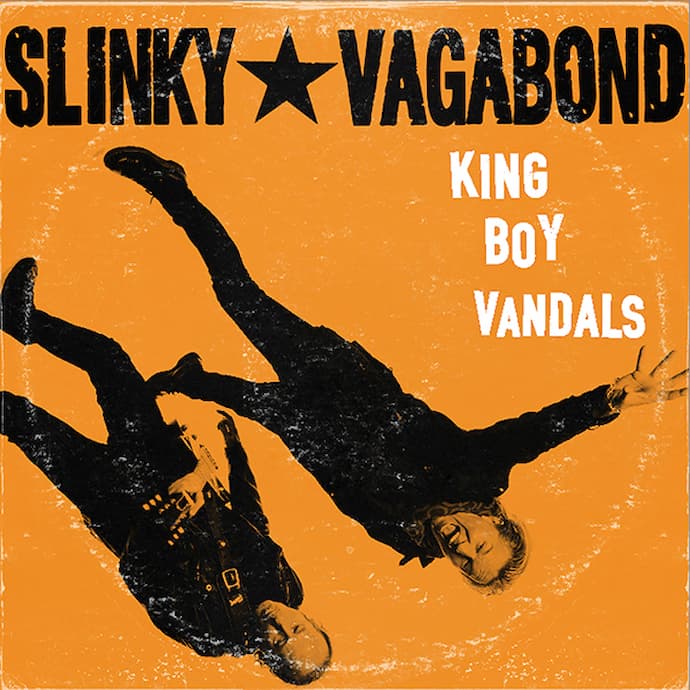 Questo fino a quando non mi sono imbattuta negli Slinky Vagabond e ho ascoltato il loro "King Boy Vandals", uscito il 6 maggio 2021, tutto d'un fiato. Mi sono ritrovata in un vortice di elettricità, che mi ha sbattuto come una pallina di un flipper da un decennio all'altro, dal 1974 al 1991, facendomi riportare alla memoria Marc Bolan e i suoi T-Rex e lo sguardo languido di David Bowie della copertina di "Hunky Dory". Canzoni senza tempo, che pagano tributo ai loro idoli senza timori e che giocano con i suoni senza dimenticarsi di far sentire che ogni nota è prima pensata e poi suonata.
Nessun compromesso dunque, o ammiccamento ai dettami di mercato, solo una selezione di canzoni scritte per ribadire l'amore che gli autori hanno per la musica, quella stessa musica che li ha stregati da adolescenti e che ancora oggi dà loro la motivazione di scrivere nuove canzoni.
Fabio Fabbri, già chitarrista dei General Stratocuster And The Marshals e il cantante Keanan Duffty si sono "trovati" e riconosciuti e insieme a un gruppo non indifferente di amici illustri del calibro di Midge Ure, Richard Fortus (Guns & Roses), Martin Turner (Wishbone Ash) hanno dato vita a una manciata di canzoni che più "indipendenti" non potrebbero essere, perché realmente libere.
Il singolo "The Beauty In You" dominato da una melodia davvero senza tempo o la conturbante "Euphoria" che rimanda ai Beatles con quel tocco floydiano che arriva all'improvviso, sono solo altri due esempi di un disco che continua a sorprendermi ascolto dopo ascolto.
Articolo di Francesca Cecconi
Track list "King Boy Vandals"
Prima Donna
Fear No Evil
The Beauty In You
Old Boy
I'M Falling Down
Euphoria
Absolutely Dark
English Country Garden
Black Leather Jacket
Rockin' Into An Explosion
The Beauty InYou (acoustic version)
Line up Slinky Vagabond
Keanan Duffty – voce / Fabio Fabbri – chitarre
Musicisti ospiti Midge Ure / Dave Formula (Magazine/Visage) / Richard Fortus (Guns N'Roses/Psychedelic Furs) / David Torn (David Bowie/David Sylvian) / Tony Bowers (Simply Red) / Martin Turner (Wishbone Ash) / Andy Hilfiger
Condividi su: