Seveso Casino Palace live a Milano 21 febbraio 2020
I Seveso Casino Palace sono una giovanissima band metal milanese
. Al loro primo debutto in un liceo di Milano nel 2014, i Seveso si presentano sul "Grande palco" di X Factor nel 2018 con una rivisitazione super rock del brano "Ricchi per sempre" di Sfera Ebbasta, con la quale entusiasmano pubblico e giudici della prima puntata del programma televisivo.
Venerdì 21 febbraio 2020 sono tornati sul palco dell'Alcatraz di Milano, per un concerto davvero esplosivo, portando loro brani, inediti e cover, da Capoplaza a Britney Spears, ricevendo grande riscontro da parte del pubblico, che cantava tutte le loro canzoni. Special guest della serata Trauma e The Koltre, con i quali hanno reinterpretato alcuni brani come "Take What You Want" di Post Malone feat Ozzy Osbourne con strofe riscritte da Silvia Ansaldi e The Koltre. Trauma ha poi intonato un suo brano, "Restless" con la bellissima voce di Silvia nei ritornelli e "Beppe Vessicchio" riorchestrata in chiave hard rock.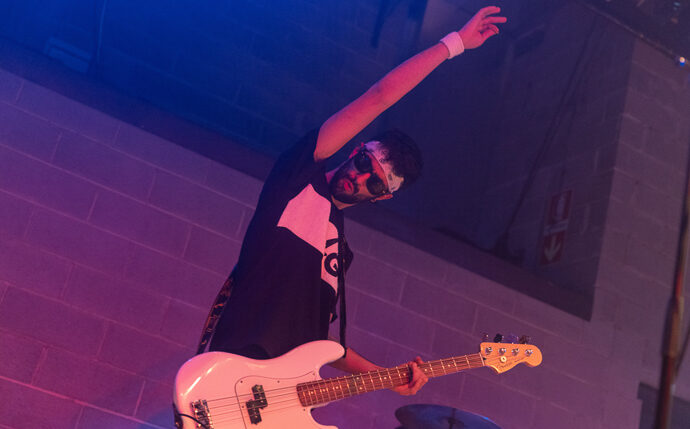 Ma le sorprese non finiscono qui: alcuni componenti della band iniziano a scambiarsi gli strumenti, così Fabiana finisce al basso, Salvatore alla batteria e Alessandro alla voce, e inizia un tributo con una versione personalizzata di "Io vengo dalla luna" del cantautore italiano Michele Salvemini, in arte Caparezza. A questi giovani ragazzi sicuramente non manca né la voglia né la grinta di andare avanti e conquistare ancora una volta il loro pubblico!
Intervista ai Seveso Casino Palace in esclusiva per Rock Nation
Come nascono i Seveso Casino Palace e da chi è nata l'idea?
L'idea di formare una band è partita da Lele (batterista): lo abbiamo conosciuto tutti in modi diversi (e ciascuno avrebbe una bella storia da raccontare) e ci siamo ritrovati tutti insieme per la prima volta in sala prove, in una fredda serata di fine 2013.
Nel corso degli anni, poi, è capitato che altre persone entrassero e uscissero dal gruppo, ma alla fine siamo sempre tornati a essere noi cinque i membri dei Seveso Casino Palace. Adesso siamo molto di più di una band: siamo un gruppo di amici, siamo praticamente una famiglia, e condividiamo una grande parte della nostra vita, ma non è da dimenticare che il nostro rapporto è nato in sala prove.
Il vostro sound da dove proviene, a chi si ispira?
Questa è sempre stata una domanda a cui rispondiamo con difficoltà. Abbiamo tantissime influenze: ognuno di noi ascolta moltissima musica, dei generi più disparati, spesso anche molto lontani dal Rock. Quando però ci mettiamo a fare musica tutti insieme, tutte le nostre influenze sfociano spontaneamente nel sound che sentite anche voi, che ha assolutamente i connotati tipici del Rock.
Com'è il vostro rapporto con il pubblico?
Il pubblico per noi è importantissimo. Ogni feedback che riceviamo dal nostro pubblico viene preso in considerazione e valutato con molta cura, perché spesso è un'occasione per migliorarci e scoprire qualcosa di nuovo su di noi. E poi, ovviamente, durante i concerti la sinergia che si viene a creare tra noi e il pubblico è fondamentale per la riuscita del live. Noi sul palco diamo tutto ma quasi sempre ci torna indietro più di quanto diamo. E questo è bellissimo.
Quali sono i prossimi progetti per il futuro?
Al momento siamo in fase di creazione. Anche se la dimensione del live ci piace troppo e speriamo di tornare in tour molto presto, adesso il tempo insieme lo passiamo perlopiù in sala prove a scrivere nuove canzoni. Stanno venendo fuori cose molto interessanti, ma per ora non ci stiamo dando scadenze perché vogliamo metterci tutto il tempo necessario a curare ogni canzone nei minimi dettagli ed essere pienamente soddisfatti del nostro lavoro. E i primi frutti stanno già arrivando: venerdì 6 Marzo, infatti, uscirà il nostro nuovo singolo "Come dici tu" che abbiamo suonato in anteprima all'Alcatraz.
Articolo, intervista e foto di Giulia Guccione
Track List
Finta Di Niente
I Miss The Misery
5:7
Standing In The Way Of Control
Come Dici Tu
Restless ( Trauma)
Beppe Vessiccio (Trauma)
Bad Romance
Giovane Fuoriclasse
Serpenti a Sonagli
Ricchi x Sempre
Forte e Chiaro
Take What You Want (The Koltre)
K.C
Vengo dalla Luna
Take Me On
Toxic
Old Digger
Finta Di Niente / Come Dici Tu
Line Up
Silvia Ansaldi – voce
Gianluca Vergani – chitarra
Salvatore Falzone – basso
Fabiana Lauro – tastiere
Alessandro D'Amico – batteria.
Condividi su: