Giuda live Bologna, 1 giugno 2021
È la sera di una giornata tardo primaverile al Covo, storico locale bolognese che ha alle spalle più di quarant'anni di concerti e ha ospitato nomi importanti della scena indie italiana e internazionale. Il caldo estivo non ha ancora avvolto la città con il suo abbraccio e nel cortile interno del locale dove si sta per tenere lo show, tutti seduti in posti numerati, si può ancora respirare piacevole brezza.
Alle 20:50 si parte, sì è presto, ma bisogna rispettare il coprifuoco. La luce solare è ancora presente ma già i riflettori del palco iniziano a farla da padrone. Un veloce intro eseguito dal frontman con sintetizzatore e la band ci catapulta nel riff di "Overdrive", opening track dell'ultimo lavoro datato 2019 (qui la nostra recensione), e il pubblico, nonostante l'obbligo di rimanere sulla propria sedia, canta a squarciagola il testo assieme a Tenda, il carismatico leader della band capitolina.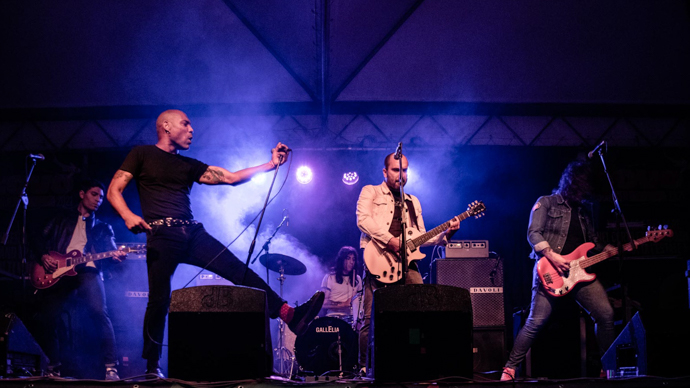 Nemmeno il tempo di sentire l'ultimo ritornello che passiamo alla carica prorompente di "Tartan Pants". La band è affiatata e coesa, lo si può vedere nei loro sguardi complici e nell'energia che sprigiona durante l'esibizione. Lunghi anni di gavetta e miriadi di concerti in Italia, Europa e Stati Uniti hanno dato i loro frutti.Mi aspettavo almeno una piccola pausa al termine di questi due brani ma niente: ecco partire "Back Home", seguito da "Coming Back To You", secondo estratto da "Racey Roller", loro album d'esordio nel lontano 2010, e qui le sonorità sono più rock'n'roll, quello che ti fa scuotere la testa al primo ascolto e che a fatica ti fa rimanere seduto.
Senza rendercene conto passiamo al medley di "Get It Over", nel quale il cantante torna dietro alle tastiere, "Space Walk" e "Watch Your Step", tre brani che perfettamente si adattano a questa scelta esecutiva; i Giuda sono sempre più energici e nonostante il palco non sia molto spazioso (l'enorme amplificazione che si sono portati dietro lo riempie per metà), i chitarristi riescono agilmente a muoversi e a duettare assieme.
Non ci sono proprio le pause in questo concerto, non c'è presentazione dei brani, e in realtà non ce n'è nemmeno bisogno perché chi stasera è qua conosce a menadito ogni singola strofa e ogni singolo ritornello; le canzoni si susseguono senza sosta come se fossero la traccia di un unico album, la compattezza sonora della band ne esalta la qualità compositiva che arriva da un passato diviso tra i sobborghi di Londra e locali di New York, un Glam Rock ottimamente fuso con il primo vigoroso Punk britannico.
Dopo brani come "You Got The Power", "Number 10" (dedicato al capitano della Roma, Francesco Totti, di cui i ragazzi sono grandi tifosi) e "Hey Hey" arriviamo alla prima pausa in attesa dell'encore che prevede quattro grandi brani. Qui il frontman cede il posto di cantante a Lorenzo, chitarrista del gruppo, in "Hold Me Tight", ballata in perfetto stile surf rock, per poi tornare a dominare il palco sulle note di "Wild Tiger Woman", "Bonehead Waltz" e "Roll On" che conclude la serata assieme ai sentiti ringraziamenti del gruppo verso i loro fan.
I Giuda sono una realtà nazionale che merita di essere conosciuta, autori di un sound genuino ed energico, con già una nutrita fanbase in Europa e oltreoceano.
Quando si va ad un concerto dei Giuda ci si trova davanti uno spettacolo diretto, senza troppi fronzoli, ma è questo il loro punto forte, poiché ti contagiano con quella carica tipica degli anni Settanta riuscendo a farla loro e a renderla attuale, un concerto di settantacinque minuti volato via in un attimo e che ti lascia solamente la voglia di rivederli.
Articolo e foto di Paolo Nocchi
Set list Giuda Bologna
Overdrive
Tartan Pants
Back Home
Coming Back To You
Maybe It's All Over Now
Medley (Get It Over – Space Walk – Watch Your Step)
Born Under A Bad Sign
You Got The Power
Get On The Line
Teenage Rebel
Number 10
Hey Hey
Interplanetary Craft
Hold Me Tight
Wild Tiger Woman
Bonehead Waltz
Roll On
Condividi su: