Lacuna Coil, al via il nuovo tour europeo
Alle prese con il tour "Black Anima" in supporto dell'album omonimo, i connazionali Lacuna Coil hanno fatto tappa all'Estragon Club di Bologna lo scorso 5 ottobre con un incredibile sold-out. Non tutti se lo sarebbero aspettato e i molti rimasti chiusi fuori dai cancelli ne sono la conferma. Non è una novità infatti che i Lacuna Coil, come anche altre realtà, "funzionino" molto di più in terre straniere che in Italia.
Per chi è dentro comunque la serata è ricca e vedrà scaldare il palco dagli Infected Rain e successivamente dagli Eluvetie, entrambi offrendo un grande spettacolo pieno di energia. Il pubblico risulta sin da subito molto partecipe e voglioso di scatenarsi. Scenografia minimal in linea con il palco con ben visibile il marchio del nuovo album, luci rosse e si parte con una scaletta che conterà davvero tanti brani vecchi e nuovi.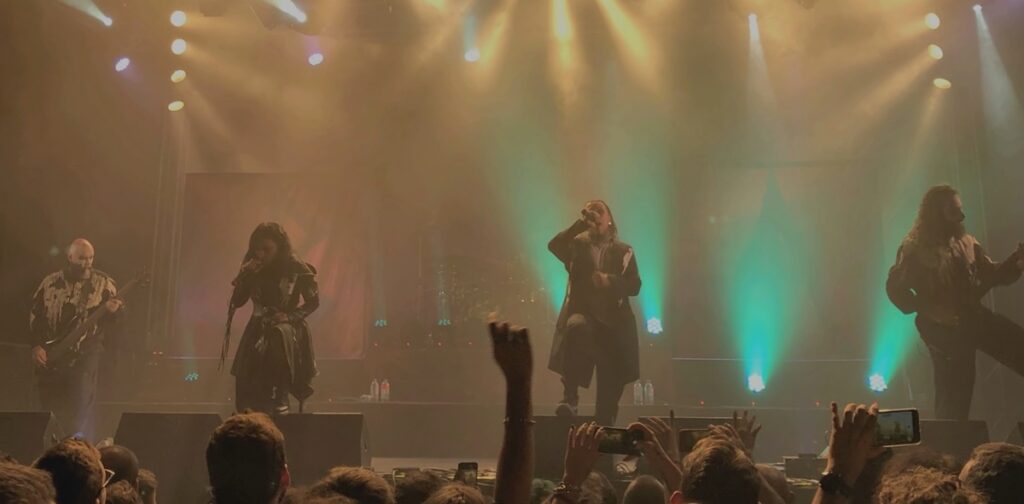 Cristina Scabbia e i suoi sono molto amati dal loro pubblico e basta vederli salire sul palco per accendere un gran boato che viene subito coperto dal muro di suono di "Blood, Tears , Dust" e poi subito dopo "Trip the Darkness". Le chitarre sono belle pesanti e meccaniche, il basso pieno e avvolgente con una batteria che martella a dovere, in generale una bella acustica accessibile anche a i lati estremi del palco. Davanti, Cristina e Andrea Ferro completano il sound con le voci forti e chiare, mai sopraffatte dal resto. La coppia sembra davvero in forma e riuscirà a coinvolgere tutto l'Estragon in pochi secondi e lungo tutta la serata.
Davvero di qualità la sezione che va da "Layers of Time" a "The House of Shame" con la quale fanno davvero tremare tutto. I Lacuna Coil si divertono, parlano col loro pubblico, Cristina in questo ruolo è la migliore e qui va detto che i suoi "grazie di essere qui" sono sempre i più veri che uno potrà mai sentirsi dire; come sempre dimostra un grande talento, il suo controllo vocale unito alla sua presenza scenica è davvero incredibile.
Non poteva certo mancare in scaletta uno dei loro cavalli di battaglia più forti, la cover dei Depeche Mode "Enjoy the Silence" con la quale fanno cantare tutto l'Estragon in un momento veramente magico.
"We Fear Nothing": queste le parole che Cristina chiede di urlare tutti insieme a squarcia gola a fine concerto, ricordando al suo pubblico – ai suoi amici – di non farsi mai dire di non essere capaci ad essere e diventare chi vogliono… e anche qui non c'è bugia o finzione perché lei urla col pubblico e arriva una grande energia che sfocerà nell'ultimo pezzo "Nothing Stands in our Way", chiusura perfetta!
I Lacuna Coil offrono un bel live, riuscendo ad accontentare vecchi e nuovi fans con una scaletta convincente e potente. Andrea e Cristina insieme creano una grande atmosfera e regalano, insieme a tutta la band, un grande spettacolo.
Line up
Cristina Scabbia – voce
Andrea Ferro – voce
Marco Coti Zelati – basso
Diego Cavallotti – chitarra
Richard Meiz – batteria
Set list
Intro / Blood, Tears, Dust
Trip the Darkness
Our truth
Reckless
My Demons
Layers of Time
Downfall
Veneficium
Cybersleep
The House of Shame
Sword of Anger
Enjoy the Silence
Intro / Naughty Christmas
Heaven's a Lie
Swamped
Nothing Stands in our Way
Articolo e foto di Luke Mazzoncini
Condividi su: