Blind Golem "A Dream Of Fantasy" Andromeda Relix 2021
I sogni vanno coltivati, sempre. Questo sarebbe il motto perfetto per i Blind Golem, la band formata da Silvano Zago e Francesco Dalla Riva dei Bullfrog insieme al batterista Walter Mantovanelli, il tastierista Simone Bistaffa e il cantante Andrea Villardo. Il loro amore per gli Uriah Heep è così sincero ed evidente da essere contagioso. Basta ascoltare "Sunbreaker" o "Scarlet Eyes" per essere catapultati nel 1972, a "Demons & Wizards". Il certosino lavoro di arrangiamento, il perfetto equilibrio tra chitarra e organo Hammond e l'uso dei cori sono il frutto di una sensibilità e una maturità musicale invidiabile, che non scade mai nel tecnicismo fine a se stesso, ma anzi, proprio grazie all'ispirazione dichiarata, acquista umanità e feeling.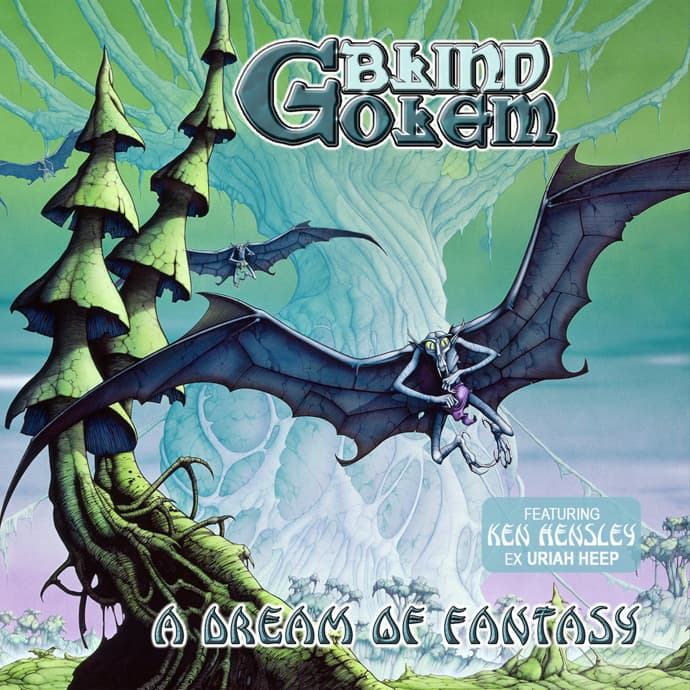 La musica, e soprattutto l'Hard Rock è attitudine, è capacità di assemblare gusti, suoni, influenze, e di dar loro una nuova vita. I Blind Golem hanno messo in pratica questo, senza aver paura di mostrare quali sono le loro influenze e i loro idoli: una canzone come "Bright Light" non potrebbe suonare e trasmettere quelle emozioni se fosse semplicemente "suonata"; la band la vive e respira, contribuisce a darle un'anima, la stessa che si muove proprio come un fantasma in "The Ghost Of Eveline" o nella sognante "The Gathering".
La copertina disegnata da Rodney Matthews, già autore di molte copertine dei Magnum, Tygers of Pan Tang, Asia e Diamond Head, è un chiaro invito a prendersi del tempo, ad ascoltare questo disco sfogliando il booklet del CD e immergersi nell'immaginario fantastico mentre scorrono le note di "Living And Dying", perché la musica può e deve poter risvegliare immagini, ricordi e sogni da troppo tempo dimenticati nei recessi della mente.
Il cerchio si chiude con la partecipazione di Ken Hensley nel brano "The Day Is Gone". Il tastierista, chitarrista e autore di quasi tutti i grandi classici degli Uriah Heep, scomparso da pochi mesi, sembra così benedire quanto creato dai Blind Golem nel loro debutto che si candida già a essere uno dei dischi di Hard Rock migliori del 2021, lasciando così alla band il fardello di rimanere nel futuro all'altezza delle aspettative.
Articolo di Jacopo Meille
Tracklist "A Dream Of Fantasy"
Devil In A Dream
Sunbreaker
Screaming To The Stars
Scarlet Eyes
Bright Light
The Day Is Gone
The Ghost Of Eveline
Night Of The Broken Dreams
Pegasus
The Gathering
Star Of The Darkest Night
Carousel
Living And Dying
A Spell And A Charm
Line-up Blind Golem
Andrea Vilardo – voce / Silvano Zago – chitarra / Simone Bistaffa – tastiere / Francesco Dalla Riva – basso / Walter Mantovanelli – batteria
www.andromedarelix.com
http://store.maracash.com/product_info.php?products_id=580
Condividi su: