Bob Mould "Blue Hearts" – Merge Records 2020
Bob Mould torna con il nuovo album in studio"Blue Hearts" in uscita il 25 settembre su Merge Records, ad un anno di distanza dal precedente "Sunshine Rock". L'album viene preceduto da due singoli, la rabbiosa e potente "American Crisis" e "Forecast Of Rain", una aspra critica al potere religioso e nelle parole dell'autore promette di essere un album di protesta urgente e diretto.
Rispetto a una certa vena di positività contenuta nel precedente lavoro "Blue Hearts" è molto più scuro, più arrabbiato, più corrosivo, come dichiarato dallo stesso autore, i parallelismi fra gli Stati Uniti del 1984 e gli attuali, non possono a suo vedere essere né fraintesi né ignorati, e sono stati una delle molle che hanno spinto Bob Mould a scrivere questo lavoro, di getto, in tempi brevissimi.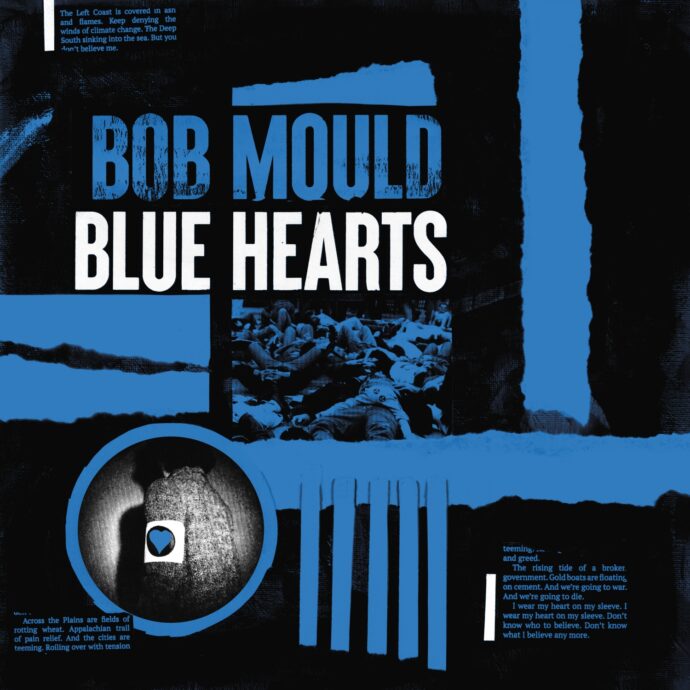 Mould ci consegna dunque un album diretto e pungente, travolgente nei suoni e nei contenuti, sicuramente un disco figlio dei tempi, un'arma da usare in una guerra alla quale non intende sottrarsi. Al suo fianco i fidati Jason Narducy e Jon Wurster che compongono una sezione ritmica solida e dinamica al tempo stesso.
Le 14 tracce contenute in "Blue Hearts" sono intense, e pur nella loro irruenta urgenza concettuale non mancano di regalarci del grande Rock abrasivo e potente, a tratti addirittura melodico con alcuni azzeccati ritornelli che accarezzano il Power Pop e se, parlando di un ex Husker Du, questo accostamento potrebbe suonare come una bestemmia, l'ascolto di pezzi come "Baby Needs A Cookie" o "Siberian Butterfly" potrebbe benissimo mettere tutti d'accordo.
Quando pesta leggermente meno sul pedale dell'acceleratore arrivano piccoli gioielli come la conclusiva "The Ocean" e la introspettiva "Leather Dreams", mentre pezzi come "Racing To The End", "Next Generation", "Fireball" e i già citati singoli, sono rabbiose canzoni di protesta.
Il Bob Mould del 2020 torna indietro al punto di partenza e sembra davvero che non sia passato così tanto tempo da quando tre giovani musicisti davano alle stampe un capolavoro come "Zen Arcade". La guerra per cui lottare sembra sempre la stessa, la diseguaglianza, l'indifferenza verso le piaghe che affliggono un paese e l'umanità in genere sembrano essere le stesse di quasi 40 anni fa. Lui è sempre qui e combatte la sua battaglia con le armi di cui dispone e credere ancora nel potere di far sentire la propria voce attraverso una canzone basta da solo a rendere "Blue Hearts" un disco importante, uno dei più importanti di questo sciagurato anno.
Articolo di Andrea Bartolini
Track list "Blue Hearts"
Heart On My Sleeve
Next Generations
American Crisis
Fireball
Forecast Of Rain
When You left
Siberian Butterfly
Ever!thing To You
Racing To The End
Baby Needs A Cookie
Little Pieces
Leather Dreams
Password To My Soul
The Ocean
Line up Bob Mould
Bob Mould – Vocals, guitar
Jason Narducy – Bass
Jon Wurster – Drums
Condividi su: