Di-Rect "Wild Hearts" – Inri 2020
Arriva dritto dall'Olanda "Wild Hearts", nuovo lavoro post lockdown dei DI-RECT, pop-punk-rock band presente sulle scene da più di venti anni e con otto album all'attivo. Il singolo di lancio "Soldier On", emerge prepotente dalla palude pandemica raccogliendo oltre dodici milioni di streams in giro per il mondo. Un brano che mette subito le cose in chiaro, divenendo ben presto disco d'oro e inno di resistenza nazionale contro le difficoltà inflitte da questo cazzo di Covid.
È "Color", canzone fresca di uscita di inizio settembre, che raccoglie il testimone della potente onda motivazionale generata dal primo pezzo, e porta con sé l'annuncio dell'uscita in digitale dell'intero album, "Wild Hearts" appunto, previsto per il 9 ottobre 2020. Così come "Soldier On", anche "Color" riscuote subito un ottimo successo commerciale, conquistando la playlist "New Music Friday Italia" di Spotify; nel giorno del suo rilascio, viene suonata dal vivo dal gruppo e trasmessa in diretta da nove emittenti radio olandesi contemporaneamente.
Dal videoclip di "Color" si percepisce subito tutta l'energia che i DI-RECT vogliono imprimere al nuovo lavoro, una forza anche visiva espressa dalle grafiche surreali e accattivanti utilizzate, a sottolineare il loro vigore, soprattutto nelle esibizioni live, quelle esibizioni – che tanto ci mancano – che avevano visto una sfilza di sold-out in tutte le date previste per questo 2020 e che sono state rimandate a ottobre del prossimo anno.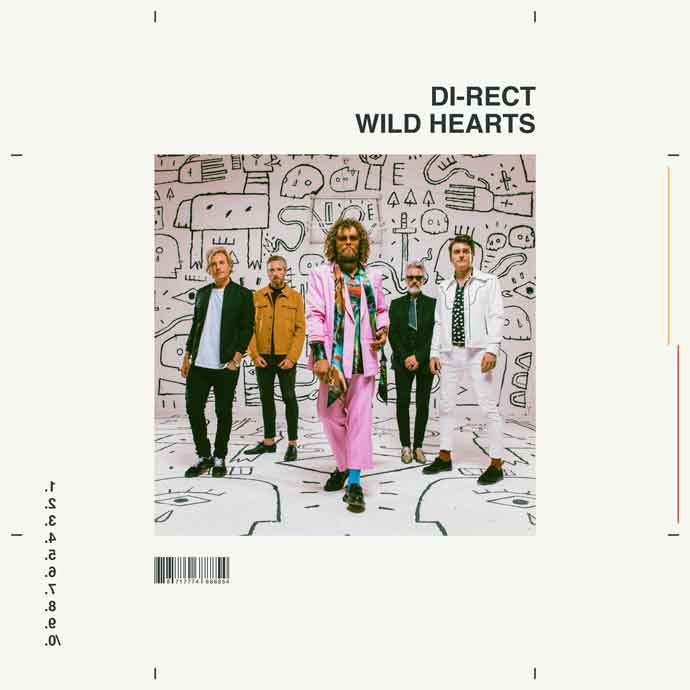 In questo nuovo album è abbastanza evidente come l'approccio dei DI-RECT si discosti dai lavori precedenti; se le loro canzoni sono sempre state molto personali e intime, adesso, con "Wild Hearts", la maggior parte dei testi risultano essere più stratificati e ambigui. È indubbio di come la società sia stata disintegrata psicologicamente dal distanziamento sociale, e molti artisti, ne abbiamo trovati tanti, nei loro testi e nelle loro composizioni, hanno cercato di suggerire spunti per tentare di convivere al meglio insieme, nonostante la paura e le diffidenze verso le diversità. Forse, come recita proprio "Color", possiamo impegnarci a cercare il terreno comune da cui tutti siamo partiti e da cui possiamo ancora ricominciare per andare avanti senza esitare, e forse possiamo riconoscerlo nei colori del nostro dolore e in quello delle nostre ombre, che non dormono mai e sono uguali per tutti.
Sono tante le contaminazioni che possiamo scorgere in questo "Wild Hearts", un album che, come abbiamo già detto, si differenzia dalle precedenti produzioni, oltre che nei testi, anche nelle sonorità. Il sound risulta molto più elettronico con molte sfumature pop e tanti omaggi alla dance degli anni Ottanta, basti sentire l'intro di "Born Again" per capire su che binari siamo.
Prosegue amplificato l'ascolto su "No Goodbye", che presenta qualche lieve venatura smithsoniana in chiave Indie. Ancora un balzo alla dance grazie a "Nightcrawler". Su "Hibernation", la traccia numero quattro di questo divertente viaggio nella musica dei DI-RECT, non possiamo fare a meno di scorgere qualche tocco new wave.
Di "Soldier On" ne abbiamo già parlato all'inizio, è il singolo di debutto di "Wild Hearts", forte e potente come lo abbiamo introdotto, dedicato a tutti noi ma in particolare alle donne, soldatesse non volute in questo mondo difficile che le vede messe costantemente alla prova; ain't nobody out there as brave as you, a million different voices that are trying to break you, just listen to one, the one that's inside you, and soldier on…
Il giro di boa è dato da "Naked", intima e delicata ballad. Ma niente di tutto quel che è stato lascia presagire l'arrivo della title track, "Wild Hearts" e non me ne vogliano i miei nuovi cinque amici olandesi se il mio primo pensiero ascoltandola è volato lassù, oltre lo spazio, fin su Marte… Let's dance! Quindi, si torna in pista a ballare, mossi ancora da "Color" che ormai conosciamo bene. Tornata conclusiva di questo album, affidata a "Snakebite" prima e "Black Cat" dopo per il gran finale.
Come spesso accade, dopo l'ascolto e la recensione di questi dischi, l'istinto ti porterebbe subito sotto al palco, alla transenna, a lasciarsi inondare il corpo dai bassi e trasportare dalle corde degli assoli di chitarra. Niente può ancora sostituire la magia e l'atmosfera rilasciati dai live. Il tempo scorre e l'agenda s'infittisce di date. La speranza non deve cedere il passo allo sconforto. Come ci suggeriscono i nostri, we can go forward, move, and forge a new beginning.
Articolo di Andrea Scarfì
Track list "Wild Hearts"
Born Again
2. No Goodbye
3. Nightcrawler
4. Hibernation
5. Soldier On
6. Naked
7. Wild Hearts
8. Color
9. Snakebite
10. Black Cat
Line up Di-Rect
Marcel Veenendaal – Voce
Frans "Spike" van Zoest – Chitarra
Paul Jan Bakker – Chitarra
Bas van Wageningen – Basso
Jamie Westland – Batteria
Condividi su: