Dinosaur Jr "Sweep It Into Space", Jugjuguwar 2021
Ci sono voluti cinque anni ma finalmente il 23 aprile 2021 uscirà "Sweep It Into Space", il nuovo lavoro dei Dinosaur Jr. Preceduto dal singolo "I Ran Away", il nuovo album vedrà la luce ancora su etichetta Jugjuguwar e ancora con la formazione classica che dal 2005 non ha più mollato il colpo.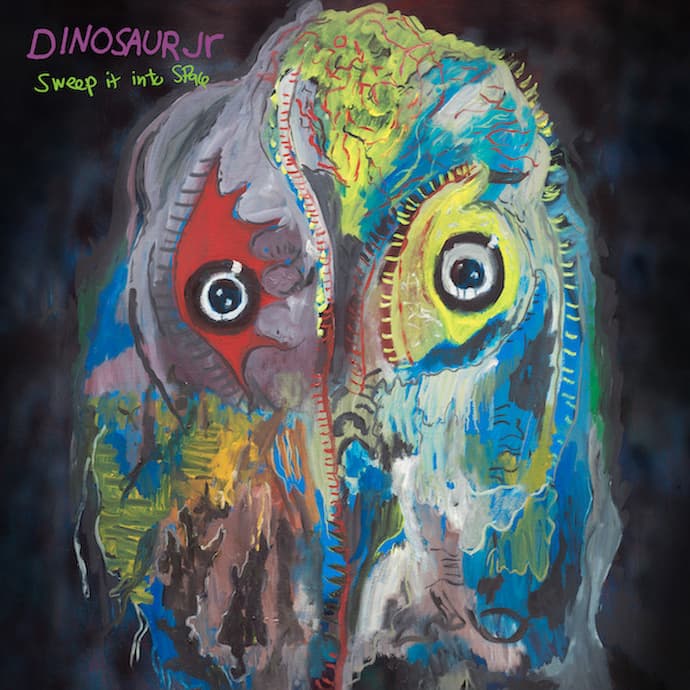 C'è forse una connessione fra la produzione dei Dinosaur Jr. prima degli anni '90, quella seguente e i rapporti personali all'interno della band, le tensioni, i giochi di potere. Come se il ruvido e massiccio impatto sonoro dei primi storici tre album avesse tenuto la band sempre in bilico sul filo della tensione emotiva, sempre in lotta fra l'urgenza di esprimere la propria visione del Rock e la difficoltà di far convivere la personalità debordante di Mascis con quella del resto della band e soprattutto di Barlow,
Questa estenuante profusione di emozioni ed energia ha probabilmente richiesto un prezzo da pagare, e quando la band si è riformata anche la musica ha rispecchiato in un certo modo una apparente armonia ritrovata. Gli album usciti fra il 1991 e il 1997 sono in pratica dei dischi solisti di Mascis usciti a nome Dinosaur Jr., mentre con "Beyond" del 2007 inizia la seconda, o terza fase se preferite, della band.
Una serie di album tutti di ottimo livello che danno ai Dinosaur Jr. una collocazione quasi Classic Rock e, al pari del precedente "Give A Glimpse Of What Yer Not", questo "Sweep It Into Space" ci ripropone il suono che ti aspetti, sempre in bilico fra melodia e potenza, mentre la voce inconfondibile e indolente di Mascis serpeggia fra le dodici tracce contenute nel disco, lasciando a Barlow il microfono per la poppeggiante "Garden" e la conclusiva "You Wonder". Il marchio di fabbrica del suono di Mascis & Co, le cui radici potremmo già riscontrare in "Bug" del 1988, è stampato indelebilmente su tutte le canzoni a cominciare dalla iniziale " I Ain't", passando per il meraviglioso singolo "I Ran Away" che vede anche il co-produttore Kurt Vile impegnato alla seconda chitarra fino alla già citata e cupa "You Wonder".
La chitarra di Mascis continua a essere l'eterna antagonista alle linee vocali tanto melodiche quanto semplici e dirette, sempre sul punto di farsi da parte per lasciare che l'enfasi elettrica prenda il sopravvento, "I Met The Stones", "Hide Another Round", "N Say" e "I Expect It Always, bastano per fare qualche esempio. Sempre la chitarra strappa qualche reminiscenza Cure in "And Me" quando si unisce al suono di una acustica e si lascia guidare da un piano in "Take It Back", ma resta comunque l'ossatura sulla quale i Dinosaur Jr. tessono ancora una volta la loro magia.
Probabilmente non sono più una band che possa stupire, hanno creato il loro suono che costituisce la loro identità, con esso si sono guadagnati una posizione di rilievo nella scena Rock alternativa degli ultimi 35 anni, contribuendo alla crescita e allo sviluppo della stessa.
In definitiva: questo ottimo "Sweep It Into Space" ce li ripropone esattamente come li avremmo voluti.
Articolo di Andrea Bartolini
Track list "Sweep It Into Space"
I Ain't
I Met The Stones
To Be Waiting
I Ran Away
Garden
Hide Another Round
And Me
I Expect It Always
Take It Back
N Say
Walking To You
You Wonder
Line Up Dinosaur Jr.
J Mascis – Vocals, guitar / Lou Barlow – Bass, vocals / Murph – Drums
Condividi su: