Francesco Moneti "Cosmic Rambler", New Model Label 2021
Avete presente il pifferaio magico di Hamelin? Quel misterioso personaggio che con il suono del suo flauto si faceva seguire ovunque da uomini ed animali senza esitazione? Ecco, fatelo traslocare dalla Germania all'Italia, dotatelo di una cascata di mori riccioli ribelli e mettetegli in mano un violino: avrete Francesco Moneti e il suo "Cosmic Rambler".
Fondatore della folk band aretina Casa del Vento con Luca e Sauro Lanzi, e componente dei Modena City Ramblers ormai da oltre 25 anni, oltre a contare varie collaborazioni e progetti su tutto il territorio con svariati artisti, il polistrumentista aretino il 29 gennaio 2021 si è lanciato con il suo primo album da solista, mantenendo la sua caratteristica di "rambler", girovago della musica come racconto di vita ed esperienza sonora.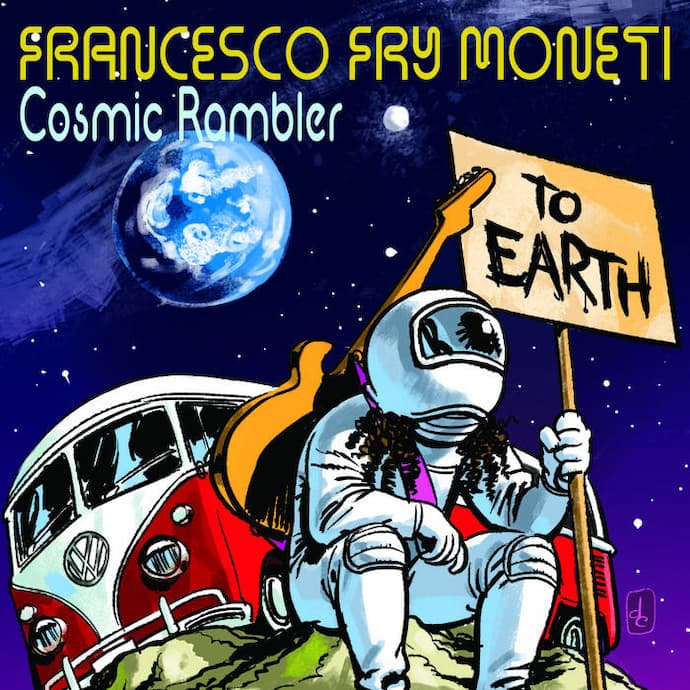 Francesco Moneti ci attrae con il suo violino e come il favoloso pifferaio ci rapisce per portarci verso un luogo sconosciuto che racconta attraverso le sue note. Il viaggio inizia con "This is the world we live in" con un featuring di Francesco Di Bella dei 24 Grana e la batteria di Marco Confetti, per poi portarci attraverso il deserto in "Before the Ghibli" ed "Electric Ghibli", mentre, aiutato dal synth e il piano di Patrizio Fariselli degli Area, ci parla dell'Africa con i suoi segni indelebili di "African Scars".
Insieme affrontiamo tempeste perfette e ci culliamo in "My Sweet Tsunami", che vede il contributo dei tamburi di Alfio Antico, ed arriviamo fino a Gerusalemme, affascinante e vibrante nelle note marcatamente mediorientali di "Jerusalem Vibes".  Tra le collaborazioni dell'album, emerge quella in "Lorenzo The Magnificent" dove si incontrano tre generazioni di Moneti: il banjo del padre Nanni, Francesco e la voce del piccolo Lorenzo, a cui il pezzo è dedicato. Un brano intimo ed onirico che non è solo musica ma anche la testimonianza del talento come destino di famiglia.
Da perfetto "rambler" della vita e della musica, in questo album Francesco Moneti ricorda le sue origini musicali Irish unendole alle successive influenze balcaniche, africane, mediorientali, alle quali si aggiungono l'elettronica e rock. Quest'ultimo elemento caratterizza "A Perfect Storm", il sesto brano del disco: come l'arrivo di una tempesta, il pezzo è un crescendo e un variare di suoni e ritmo prima dell'attacco della pioggia di note della chitarra elettrica a cui si accompagna e contrasta al tempo stesso la potenza del violino che ne accetta la sfida. Un incontro non raro, ma audace ed intenso, che prima stupisce, poi ti cattura e alla fine non puoi fare a meno di farti trascinare. Ma cosa è questa tempesta perfetta? Un incontro con qualcuno lungo il tuo cammino che sconvolge la tua vita? Un elemento naturale troppo potente da contrastare? Forse un evento inaspettato che mette in gioco tutti, ognuno con le proprie capacità, come accade adesso?
Non ci sono risposte, Francesco ci accompagna solo in questa avventura, offrendoci un viaggio che sta a noi continuare. Lui intanto sa da dove viene, sa dove va, sa dove tornerà, da perfetto astronauta dello spazio artistico. Forse è per questo che il fumettista Daniele Caluri lo ha rappresentato così sulla copertina del disco.
Articolo di Alma Marlia
 Track List "Cosmic Rambler"
This Is The World We Live In (feat. Francesco Di Bella)
Before The Ghibli
Electric Ghibli
Lorenzo The Magnificent
African Scars (feat. Patrizio Fariselli)
A Perfect Storm
The Sun Is Just A Dot
My Sweet Tsunami (feat. Alfio Antico)
Jerusalem Vibes
Vampireska
La Valse Du Sang
Line up Francesco Moneti
Francesco Moneti  -violino, chitarra elettrica, chitarra acustica, chitarra a 12 corde, mandolino elettrico e acustico, bouzuki,  kalimba, rullante, flauto, oud elettrici, voce/ Lorenzo Moneti – voce /Marco Confetti – batteria / Francesco Di Bella – voce /Alfonso Bruno – chitarra elettrica / Patrizio Fariselli – moog, piano /Alfio Antico – percussioni /Mattia Antico – Dulcimer /Daniele Contardo – organetto /Nanni Moneti – banjo
Condividi su: