Mick Fleetwood & Friends "Celebrate The Music Of Peter Green And The Early Years Of Fleetwood Mac", BMG 2021
È difficile spiegare a parole quanto Peter Green sia stato uno dei chitarristi inglesi più influenti del ventesimo secolo. Il suo culto sembra essere a torto solo per tutti coloro che sono a conoscenza del suo contributo inestimabile alla riscoperta del Blues. Scoperto da John Mayall, Peter Green con i Fleetwood Mac ha compiuto un miracolo di cui ancora oggi possiamo godere i benefici. Il Blues oggi lo conoscono tutti, ma non era così negli anni '60. Paradossalmente, proprio in America, erano in pochi a coglierne tutto il suo incredibile valore. Peter Green riuscì nell'impossibile: proprio come Ulisse, contribuì a riportare il blues a "casa" e a farlo conoscere.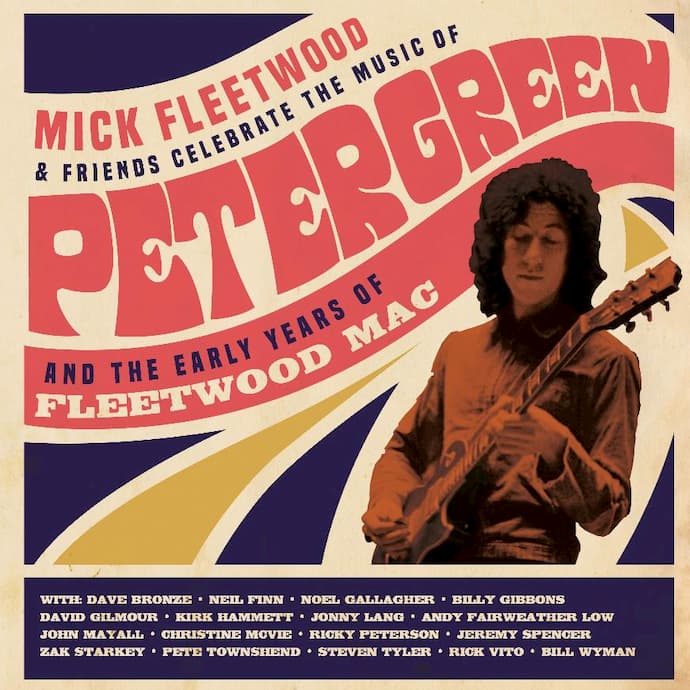 La serata del 25 febbraio 2020 organizzata al Palladium di Londra da Mick Fleetwood, batterista dei Fleetwood Mac e unico membro insieme a John McVie ad aver attraversato tutte le incarnazioni dell band, è il miglior modo per tentare di far a capire il contributo del chitarrista scomparso lo scorso luglio: un susseguirsi di nomi altisonanti che si mettono al servizio della musica. Provate a chiudere gli occhi e a immaginare di essere presenti ad uno dei primi concerti dei Fleetwood e di ascoltare per la prima volta canzoni come "All Your Love" o "Stop Messin' Around" o "Love That Burns". Sarete rapiti, sentirete qualcosa dentro di voi muoversi, contorcersi ed esplodere. È il poter del Blues, quello che è suonato con il cuore e che va dritto al cuore.
Ma Peter Green era anche altro: era figlio del suo tempo, di quel momento incredibile dove "osare" era obbligatorio: "Oh Well" non sarebbe mai nata altrimenti. La canzone che ispirò Jimmy Page per "Black Dog", quel concentrato che di energia e pathos che poi vira verso qualcosa che ancora oggi è impossibile definire e che quel 20 febbraio David Gilmour aveva invece ben chiaro. E che dire di  "The Green Manalishi (With The Two Prong Crown)"? Una canzone che ancora oggi sfugge a ogni definizione, rimanendo per questo unica e ammaliante.
Su tutte però svetta una canzone: "Man Of The World". 52 anni dopo la sua prima pubblicazione, resta per me una delle vette insuperabili della canzone del secolo che ci ha passato. Solo John Lennon con "In My Life" era riuscito a catturare la stessa magia in una manciata di minuti, e Peter Green non è da meno.
Il concerto sarà trasmesso in streaming on demand il 24 aprile, qui i biglietti: https://nugs.tv/private/citi/General.aspx
I musicisti sul palco: Neil Finn, Noel Gallagher, Billy Gibbons, David Gilmour, Kirk Hammett, John Mayall, Christine McVie, Jeremy Spencer, Zak Starkey, Pete Townshend, Steven Tyler e Bill Wyman. La house band era composta dallo stesso Mick Fleetwood con Dave Bronze, Jonny Lang, Andy Fairweather Low, Ricky Peterson e Rick Vito. L'album, in uscita il 30 aprile, è disponibile in varie versioni: doppio CD e Blu-Ray, quadruplo vinile e un super box contenente tutti i formati.
Articolo di Jacopo Meille
Track list "Celebrate The Music Of Peter Green And The Early Years Of Fleetwood Mac"
Act I
Rolling Man (feat. Rick Vito)
Homework (feat. Jonny Lang)
Doctor Brown (feat. Billy Gibbons)
All Your Love (feat. John Mayall)
Rattlesnake Shake( feat. Billy Gibbons & Steven Tyler)
Stop Messin' Round (feat. Christine McVie)
Looking For Somebody (feat. Christine McVie)
Sandy Mary (feat. Jonny Lang)
Love That Burns (feat. Rick Vito)
The World Keep Turning (feat. Noel Gallagher)
Like Crying (feat. Noel Gallagher)
No Place To Go (feat. Rick Vito)
Station Man (feat. Pete Townshend)
Act II
Man Of The World (feat. Neil Finn)
Oh Well (Pt.1) (feat. Billy Gibbons & Steven Tyler)
Oh Well (Pt.2) (feat. David Gilmour)
Need Your Love So Bad (feat. Jonny Lang)
Black Magic Woman (feat. Rick Vito)
The Sky Is Crying (feat. Jeremy Spencer)
I Can't Hold Out (feat. Jeremy Spencer)
The Green Manalishi (With The Two Prong Crown) (feat. Billy Gibbons & Kirk Hammett)
Albatross (feat. David Gilmour)
Shake Your Moneymaker (group finale)
Condividi su: