Modern Stars "Silver Needles" – Mia Cameretta Records 2020
Ciò che senz'altro vi capiterà, cliccando play per ascoltare i Modern Stars, sarà rimanere piacevolmente stupiti dall'originalità della proposta. E nel marasma di progetti in teoria così diversificati, ma a conti fatti così omologati, questo è un risultato non da poco per un album d'esordio.
"Silver Needles", in uscita il 25 settembre 2020 sotto la sapiente ala di MiaCameretta Records, si presenta interessante sin dalle prime note di "Lord I'm Ready", il cui andamento martellante ipnotizza in un vortice di suoni e voci. Il videoclip, girato con classe e intelligenza, completa benissimo a livello visivo le vibrazioni trasmesse dal brano, nonché il suo significato intrinseco d'apertura (al disco, alla vita).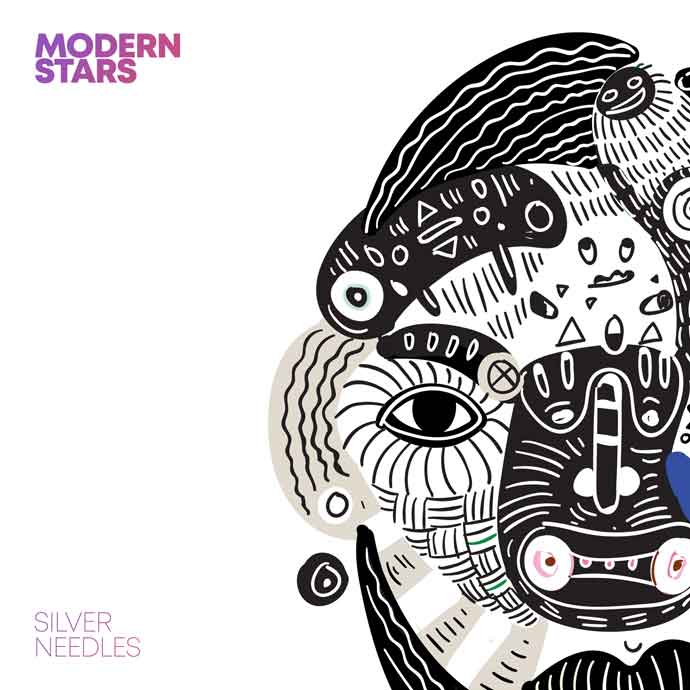 L'accostamento fra i vocalizzi del soprano lirico Barbara Margani e il timbro temprato di Andrea Merolle risulta un connubio vincente che sta alla base dell'intero album. Il dualismo canoro riesce a tracciare una linea netta fra i triti duetti uomo-donna, e un revisionismo intelligente legato alla comunicazione e al potenziamento del messaggio.
"I Hope to Go to Heaven" si prende maggior respiro, ha un incedere costante e fiero, innalzandosi come una preghiera pagana dalle sonorità distorte. Con "She Comes Now" torna il canto dell'aura minacciosa incombente sulle nostre vite, e in questo caso alla voce maschile monocorde (quasi un salmo) si contrappone un'interessante chitarra dissonante.
"Space and Time", più rarefatta sia a livello strumentale che canoro, suona come una risposta al brano precedente: un equilibrio può essere raggiunto grazie alla consapevolezza donata dall'esperienza. La sincopata parte strumentale finale – un flusso tanto spezzato quanto evocativo – è senza dubbio il momento più alto del brano. È qui che risiedono le influenze più psichedeliche del progetto, le derive ispirate ai raga indiani; e il testo ermetico, a cavallo fra reale e lisergico, potenzia il mood evocato dalla musica: I'm confused /slightly dazed / did you try? / Lies and thoughts / come undone into my mind / erase all / now I'm floating / in space and time.      
"Jesus Walks Alone" presenta un incipit sostenuto da una parte maggiormente elettronica a supporto del consolidato impianto di voce declamata, e anche in questo caso l'approccio scarno del testo va dritto a segno, a braccetto con la presa di coscienza narrata: Walking on a rising / gotta save my soul / I'm coming home / on a heavenly bow / I'm coming home.
In una proposta dalle tinte globalmente oscure, è comunque il sentimento d'Amore puro che suggella l'ultima traccia originale del disco: "Side by Side". Dentro c'è un po' tutto il mondo della band: il ritmo indianeggiante, un pizzico di elettronica, la dissonanza rock; e fra queste categorie emergono spoken di notizie che hanno caratterizzato la cronaca recente tanto italiana quanto frusinate (i "Modern Stars" sono ciociari).
And I think I love you more than I desired / and we fill each other living side by side.
È nell'Amore inteso come valore assoluto che i punti di vista cambiano, che l'uomo si fa uomo e cerca sì una stabilità, un centro… ma allo stesso tempo è spronato a tendere la mano, a prendersi cura dell'altro, a essere per una volta altruista, "umano" non solo in quanto parte dell'umanità, ma come incarnazione dell'omonimo aggettivo.
"Hey Man", cover degli Spaceman 3, progetto da cui il gruppo trae grande ispirazione, è la giusta chiusura del disco.
Soprattutto in un esordio è importante che si mostri qual è il posto da cui si proviene e, contemporaneamente, si punti il dito nella direzione verso cui tendere.
Se questi sono i presupposti non resta che seguire la band lungo le date live di supporto al disco, e tenere alta l'attenzione sulle prossime produzioni, con la speranza che i Modern Stars non perdano mai la voglia di cercare soluzioni originali, e di posare la vista su nuovi orizzonti.
Articolo di Simone Ignagni
Track List "Silver Needles"
Lord I'm Ready
2. I Hope to Go to Heaven
3. She Comes Now
4. Space and Time
5. Jesus Walks Alone
6. Syde by Side
7. Hey Man (Spaceman 3 cover)
Line up Modern Stars
Andrea Merolle: chitarre elettriche, chitarre acustiche, sitar, mandolino, basso, sintetizzatori, voce
Barbara Margani: voce
Andrea Sperduti: batteria, percussioni
Modern Stars Online 
Sito ufficiale: http://themodernstars.com/
Facebook: https://www.facebook.com/themodernstars/
Instagram: https://www.instagram.com/_modernstars_/
Bandcamp: https://modernstars.bandcamp.com/
Condividi su: