My Sunday Spleen "Prisoners of Nowhere", Rocketman Records 2021
"Prisoners of Nowhere", il titolo è decisamente impegnativo. Parliamo del nuovo lavoro dei My Sunday Spleen, uscito il 9 aprile 2021 sotto etichetta Rocketman Records. Il trio milanese suona insieme dal 2012 e ha prodotto materiale originale dal 2013, con all'attivo un Ep intitolato "Your Soul Is Sliding Away An Inch From The River" (titolo anch'esso decisamente impegnativo e complicato da ricordare). Nel 2016 si concede un LP, 11 brani per un totale di 15 minuti, registrati in seguito a un Music Raiser che in quel contesto storico era una mano interessante per ottenere arte facendosi aiutare dai propri fan. Nonostante io ora mi stia dedicando a "Prisoners of Nowhere", vi consiglio di prestare orecchio anche ai prodotti precedenti, in quanto molto inquadrati in sonorità interessanti e di livello (ma su cui non scenderò nel dettaglio per non andare fuori contesto).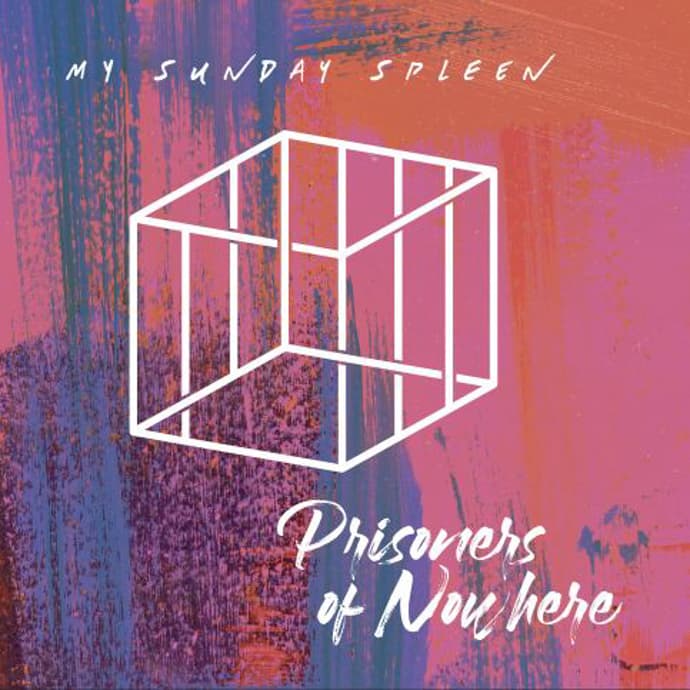 Oggi la prima sensazione musicale che percepisco è di sonorità dalle melodie ben definite, il genere è identificato come New Wave/Post Rock/Noir e devo ammettere che non avrei saputo definirlo in modo differente! La nota new wave è molto marcata, soprattutto nell'essenza dell'impronta sonora, il Rock e il Post Rock sono nel DNA dei musicisti in maniera esplicita e palpabile, infine il Noir, la propensione al "minore" incide decisamente sul risultato finale.
"Prisoners of Nowhere" è un disco che trasmette emozioni, è centrato sulle emozioni ed è stato scritto per veicolarle, veicolare l'emozione che può "fuoriuscire" al momento in cui si evade da una prigionia interiore. E questa è una carta che non è codificata grazie a scelte di genere ma grazie all'intenzione in fase di scrittura. La resa sonica del disco segue una robusta coerenza, il basso è molto massiccio e ruggente, la chitarra alterna dei crunch chiusi e molto incisivi a ampi riverberi tipici New Wave, infine la batteria è molto contenuta, mai invasiva, ne ho amato il rullante compatto e dai contorni ben disegnati. Un ultimo cenno va alla voce, molto espressiva senza esigere estensioni eccessive. La trovo ben posata, ben scritta e ben arrangiata.
 Non farò un track-by-track, in quanto il disco fluisce naturalmente e non mi va di analizzare ogni singolo brano, vedendo l'interezza del disco come un insieme da ascoltare tutto di fila. Dovessi, mi soffermerei su "Prison" e la sua tromba molto evocativa, ma preferisco porre l'attenzione all'ascolto del disco in sé. Va ascoltato in casa, non è un disco che mi piacerebbe ascoltare nel traffico o in viaggio. Lo trovo molto raccolto, gradevole in una sera primaverile, mentre si finisce di preparare qualcosa di carino per un'ospite a lungo attesa. Mi richiama quella sensazione per cui passo da una stanza all'altra e il rullante contenuto e ben disegnato va a scandire i miei passi rapidi e impacciati in attesa dell'ospite che arriverà irrimediabilmente in ritardo.
Termino con un cenno alla durata del disco, 10 brani per 40 minuti. In genere a questo punto della recensione mi lamento di lunghezze di brani o numero di essi. In base all'ascolto, al genere e alla piacevole produzione posso dire che "Prisoners of Nowhere" dei My Sunday Spleen dura letteralmente il giusto. Non un minuto di più né uno di meno, e vi sembrerà poca cosa, ma non lo è. Tantissimi dischi sono troppo corti e lasciano l'amaro in bocca o lunghi tanto da annoiare. Qui è decisamente un equilibrio corretto.
Articolo di Marco Oreggia
Tracklist "Prisoners of Nowhere"
"My Window"
"Ride Along"
"Citizen of Nowhere"
"Lost My Feelings"
"Dear Friend"
"Black Alone"
"Let it go(Little Shelter)"
"Prison"
"Half Love"
"Almost Nothing"
Line up My Sunday Spleen
Vincenzo de Tommaso: voce e chitarra / Armando Trivellini: basso / Paola Bertozzi: batteria
Condividi su: