Passenger "Songs for the Drunk and Broken Hearted", Cooking Vynil/Egea Music/The Orchard 2021
Pubblicato l'8 gennaio 2021, "Songs for the Drunk and Broken Hearted" segna il ritorno di Passenger, nome d'arte dell'acclamato menestrello britannico Mike Rosemberg. Tredicesimo album in studio, è dedicato ai "cuori spezzati e ubriachi" di chi, come lui stesso si è trovato a sperimentare, deve affrontare la fine di una relazione, con lo smarrimento, l'amarezza, la rabbia, il dolore e l'acredine che ne seguono. Anticipano i singoli "A Song for the Drunk and Broken Hearted", "Suzanne" e "Remember to Forget", la trilogia dei personaggi alticci dal cuore a pezzi.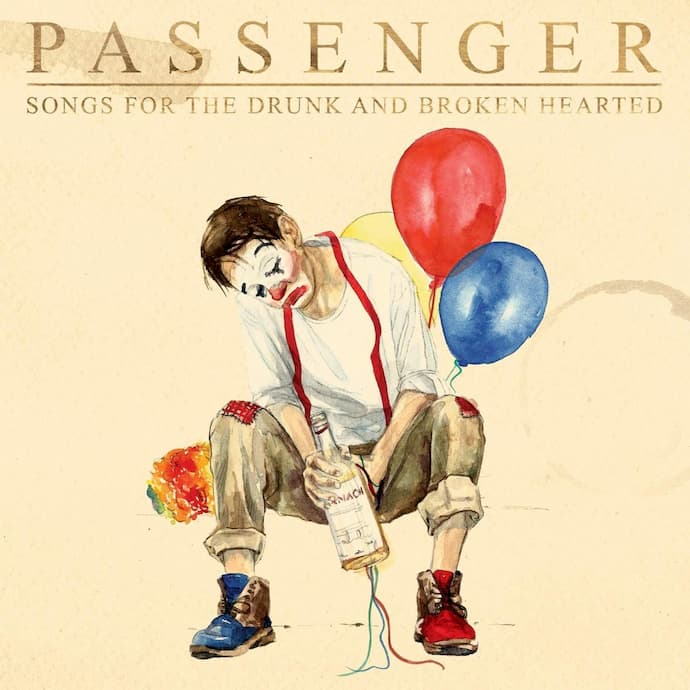 Se l'uscita per Cooking Vinyl era prevista in primavera ed è slittata per le ragioni che possiamo immaginare, il cambio di piani è stato in questo caso provvidenziale, dal momento che la track list ha guadagnato alcune tracce, tra cui il brano che apre il disco "Sword from the Stone". Difficile immaginarsi un inizio più rappresentativo del leitmotiv dell'intero disco. L'atmosfera malinconica è quella che conosciamo bene (impossibile non ricordare il ritornello di "Let Her Go", hit che lo fece scoprire al mondo).
Con la voce particolare che lo distingue, Mike Rosemberg canta il suo amore perduto e di come, quando una storia finisce, ci si ritrovi in un caos di sensazioni contrastanti che rendono impossibile fare ordine dentro e fuori; a tratti la mancanza spiazza e disorienta, a tratti viene spontanea una normalità che non esiste più, ma restano le domande di circostanza formale a fare a pugni con l'istintiva ricerca di intimità a cui si era abituati: Perché io sto bene / e poi non sto bene per niente / Sto girando in tondo e non riesco a smettere / Non riesco a fare questa cosa da solo / perché il tempo prima vola e poi è così lento (…) / Ci ho provato e non riesco a togliere la spada dalla pietra.
Arrivati all'ultima track in scaletta, il nastro si riavvolge riproponendo i brani dall'ultimo al primo, in versione acustica, voce e chitarra, così come spesso lo abbiamo visto suonare, sui palchi e per le strade, in modalità busker.
In attesa di vederlo dal vivo in Italia con due date (22 luglio 2021 – Merano (BZ) World Music Festival e 1 Ottobre 2021 – Fabrique di Milano), è possibile partecipare a un'esclusiva performance alla prestigiosa Royal Albert Hall di Londra, il 10 gennaio, in diretta streaming per celebrare la pubblicazione del nuovo album.
Articolo di Valentina Comelli
Track List "Songs for the Drunk and Broken Hearted"
Tip of My Tongue
What You're Waiting For
The Way That I Love You
Sandstorm
A Song for the Drunk and Broken Hearted
Nothing Aches Like a Broken Heart
London in the Spring
London in the Spring (Acoustic)
Nothing Aches Like a Broken Heart (Acoustic)
Suzanne (Acoustic)
A Song for the Drunk and Broken Hearted (Acoustic)
Sandstorm (Acoustic)
Remember to Forget (Acoustic)
The Way The I Love You (Acoustic)
What You're Waiting For (Acoustic)
Tip of My Tongue (Acoustic)
Sword from the Stone (Acoustic)
Condividi su: