Roommates "Roots" – Vrec Music Label 2020
A tre anni di distanza dal precedente "Fake" arriva il secondo album della band ligure Roommates. "Roots" uscirà su Vrec Music Label l'8 maggio 2020 con la lussuosa produzione di Pietro Foresti a mettere il sigillo su un'opera ambiziosa fin dall'aspetto progettuale.
"Roots" è infatti un concept album che si ispira nel titolo alla Divina Commedia di Dante Alighieri e tratta in 10 tracce dei sette vizi capitali. I Roommates sono una band dal suono trasversale che non si preoccupa di pagare pegno alle loro varie fonti di inspirazione e facendolo si muove con agilità in vari settori del Rock, mischiando influenze southern rock americane (poche a dire il vero all'interno di "Roots") a certo Rock alternativo moderno, arrivando a sfiorare atmosfere più vicine a sonorità post punk, usando arrangiamenti raffinati e articolati, e sfruttando a pieno le capacità vocali di Davide, Danilo e Marco.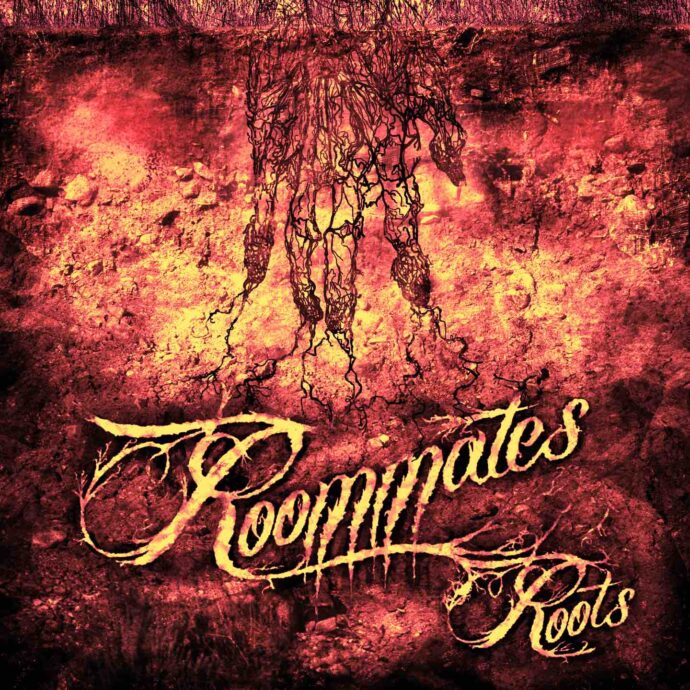 Potete quindi iniziare il vostro viaggio all'interno di "Roots", con "Path Of The Sinner": il cammino del peccatore vi introduce attraverso un arrangiamento dapprima rarefatto che sale sempre di più in un crescendo, dove insieme alla sofferta parte vocale notiamo fin dal principio le ottime figurazioni ritmiche di Alessio Spallarossa – già batterista dei Sadist – e la spiccata attitudine della band a creare strutture dinamiche ed equilibrate.
Sale il groove con "Second One", un trascinante pezzo dove a una ritmica killer si sovrappone un chorus assolutamente efficace, ottima prova della sezione ritmica in questo brano.
Si cambia un po' registro con  "Feed Me" e si scopre la capacità della band di creare geometrie chitarristiche spigolose e nervose, con le quali incamminarsi verso aperture melodiche e armonie vocali  vincenti. Sotto tutto questo, un basso che regge la struttura con competenza e ottima scelta di suono.
Si torna al classic rock con "Want" e "Acedia", chitarre dal sapore settantiano che dettano legge come ci si aspetta che debba essere. La martellante "Deep Feeling", scelta come singolo ad anticipare l'uscita dell'album, è un'altra ottima composizione dove la sezione ritmica e un indovinato refrain ne fanno un pezzo vincente.
"The Contract" è un altro pezzo dinamico e articolato dove la band non si preoccupa di cambiare passo più volte, mostrando una capacità strumentale notevole e una certa maestria nel creare spazi strumentali che non appesantiscano la struttura e non ne compromettano la fluidità.
"Pride" è il singolo che ha preceduto la pubblicazione dell'album, brano dal ritmo trascinante che sfoggia  sia una sezione rock'n'roll, così come un ritmo dal sapore dance e in aggiunta un break strumentale e un ritornello vincente, così giusto per mischiare le carte con maestria e gusto.
La penultima traccia, "Summit", è una guitar song dal ritornello veramente contagioso, complice anche un azzeccato coro che ci accompagna a "Roots", che chiude l'album un po' come è stato iniziato, una traccia corale che lascia alla linea vocale il compito di incanalare il pathos e le emozioni contenute in questa composizione che sa di redenzione e purificazione.
Se volete lasciarvi conquistare da una delle migliori rock band in circolazione, questo Roots potrebbe diventare uno dei vostri dischi favoriti del momento. Il songwriting e il gusto negli arrangiamenti uniti ad una produzione impeccabile ne fanno un album vario e articolato ma fluido e accattivante al tempo stesso.
Articolo di Andrea Bartolini
Track list "Roots"
Path Of The Sinner
Second One
Feed Me
Want
Acedia
Deep Feeling
The Contract
Pride
Summit
Roots
Line up Roommates
Davide Brezzo – Chitarra, voce
Danilo Bergamo – Chitarra, voce
Marco Oreggia – Basso, voce
Alessio Spallarossa – Batteria
Condividi su: