Sky of Birds "Matte Eyes/Matte Moon" – Mia Cameretta Records 2020

Grigio, ovunque. "Matte Eyes/Matte Moon", secondo album degli Sky of Birds, fuori il 20 novembre 2020 dopo l'esordio sulla lunga distanza di "Blank Love" (2016), mette in scena il cuore del suo contenuto sonoro già dall'impatto visivo. La copertina disegnata da Irene Scarchilli è infatti un bianco e nero totalizzante, con stormi di uccelli stilizzati che invadono un cielo plumbeo, opprimente, che occupa oltre i due terzi dell'immagine. Le figure scure, quasi simboli di eventi nefasti, incombono sullo skyline di una metropoli tagliata in due da una strada lungo la quale spicca l'unica nota di colore.
Come un irregolare nastro rosso sfilacciato.
Come una striscia di sangue.
O come la carnalità delle dieci tracce che compongono il disco, e sembrano voler attraversare quel mare di grigio informe per stemperarlo col loro calore.
"Flaws In Color" ha un andamento cadenzato e solenne che sembra uscire direttamente da "Trust" dei "Low"… e non sarà questa l'unica influenza Slow Core ravvisata nel lavoro che, rispetto alle precedenti realizzazioni, sembra prediligere toni decisamente più cupi. Il videoclip del pezzo ne è un'ulteriore dimostrazione: una parata d'immagini seppiate che parlano di desolazione, abbandono, senso di oppressione.
Solitudine.
Perdita.
Come un mondo ancora lì, presente, ma lasciato avvizzire ai margini, laddove nessuno ci farà troppo caso.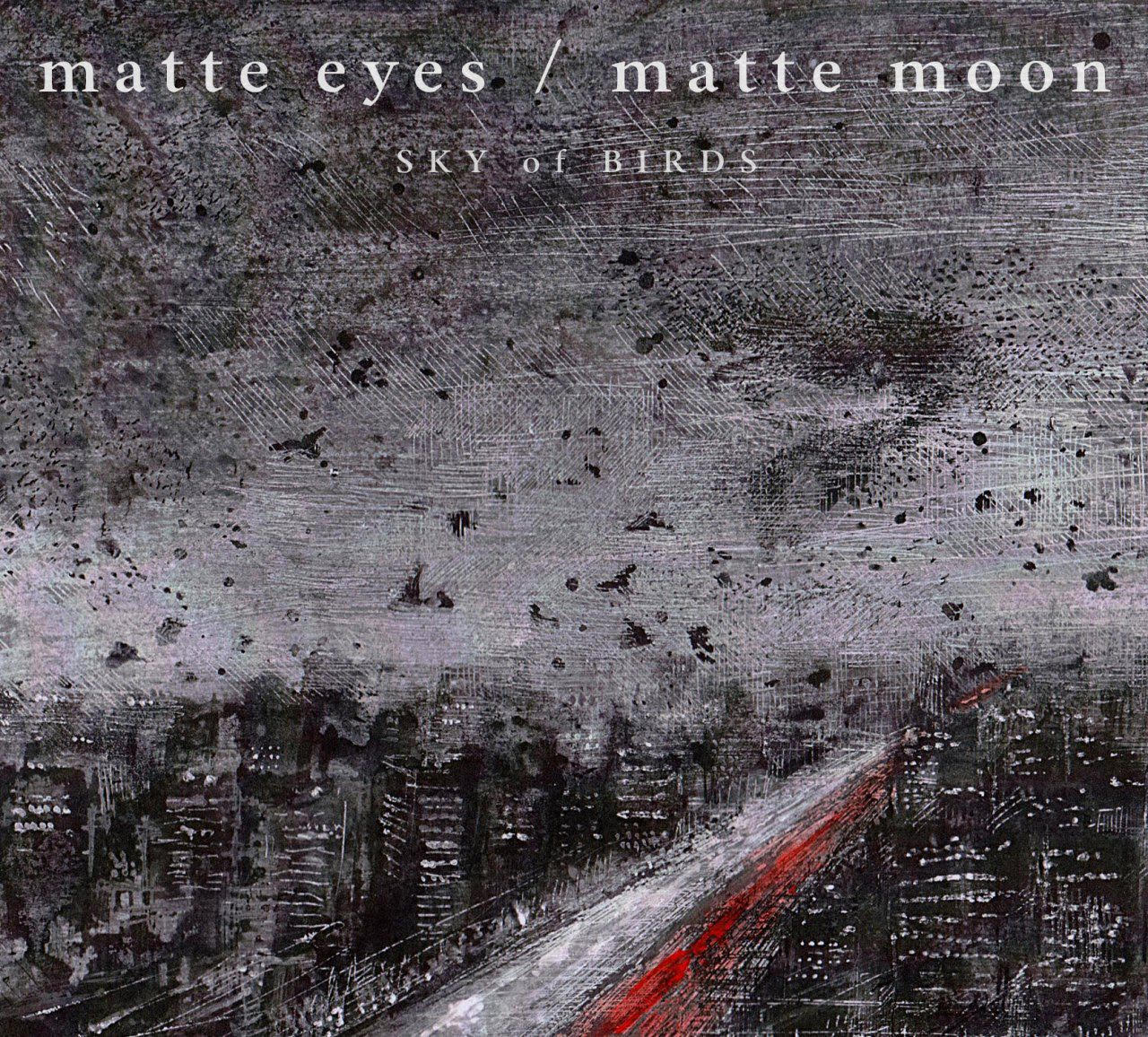 "Small Eyed Moon" parte in tono di declamazione: la calda voce del cantante-chitarrista Mario Martufi ci accompagna fino all'esplosione, che libera la canzone in un motivo accattivante. Il videoclip, freschissimo d'uscita, con le sue immagini desaturate si sposa bene alle sonorità inquiete, al comunicare sofferto.
L'atmosfera di "Days Fall Down Like Mouthfuls" è un miele dolce/amaro, condito sapientemente da chitarre che a volte riverberano, a volte ricamano lungo la melodia intensa. "If 9 Was 6" scorre compatta e granitica, amara e consapevole, svuotata nella zona centrale come fosse una vita privata del sale. Del colore.
Accettazione.
Che le persone più tristi vorrebbero far passare per maturità.
In "People Have Nothing" la tensione principale parte dal basso e, man mano, il brano si arricchisce di chitarre e linee vocali che confluiscono in un "wall of sound" ispirato, che rimanda felicemente ad alcuni episodi della loro passata produzione. In "Haze Daze Dazzle" gli arrangiamenti, i suoni e gli effetti cercati, che strizzano addirittura l'occhio agli anni '80, risultano tuttavia così ben congegnati da rendere la traccia fresca e originale.
"Still Birds", caratterizzata da un ottimo lavoro batteristico, predispone a una maggior distensione, e chiude tuttavia più sincopata, attenendosi al messaggio base: l'aria che vorremmo respirare a pieni polmoni va presa a piccole dosi, perché non è poi così sana. Sonorità desertiche e un piglio mediamente più drammatico caratterizzano l'incedere importante di "I've Seen You Monster".
L'alternanza delle due note iniziali di "Lied To A Liar" suonano come un Tic-Tac: lo scandire del tempo in un conto alla rovescia ineluttabile, che tuttavia viene alleggerito nella coda strumentale dall'anima più aperta. La successione delle note di "The Child You've Been" sembra invece provenire da quei carillon appesi sulle culle… un portale sonoro fatto per tornare indietro, nel passato setacciato attraverso una voce mantenuta quasi al di sotto del tappeto sonoro.
Un muro di ricordi che ci tiene distanti, e che tuttavia ci protegge ancora.
"Matte Eyes/Matte Moon" è un esempio lampante di come un disco prodotto in provincia (in questo caso la Ciociaria) possa suonare convincente, internazionale. Merito della sapiente produzione di Mia Cameretta Records, tesa a far emergere sempre il potenziale dei brani. E merito, soprattutto, della qualità della scrittura. In fondo la "voce autoriale", intesa come cuore alla base di una creazione, resta la vera discriminante fra un disco qualsiasi, piacevole quanto si vuole, e un album che vale la pena ascoltare e riascoltare, per immergersi in un vero e proprio mondo.
Articolo di Simone Ignagni
Track List "Matte Eyes/Matte Moon"         
Flaws In Color
Small Eyed Moon
Days Fall Down Like Mouthfuls
If 9 Was 6
People Have Nothing
Haze Daze Dazzle
Still Birds
I've Seen You Monster
Lied To A Liar
The Child You've Been
Line up Sky of Birds
Mario Martufi – voce, chitarra / Sandro Traversi – chitarra, tastiera / Luca Verrelli – chitarra, mandolino, tastiere / Simone Podagrosi – basso / Andrea Daranghi – batteria
Sky Of Birds online:
Facebook – https://www.facebook.com/skyof/
Instagram – https://www.instagram.com/sky_of_birds/
Bandcamp – https://skyofbirdss.bandcamp.com/
Condividi su: