Snowy White "Lucky Star – An Anthology 1983- 1994" – Cherry Red 2020
Ci sono musicisti che hanno lasciato un segno indelebile nella musica ma che solo pochi ricordano.
Snowy White è stato il chitarrista dei Thin Lizzy per due album, "Chinatown" e "Renegade". Aveva avuto il compito difficilissimo di subentrare a Gary Moore e si ritrovò anche a fare i conti con Phil Lynott, leader indiscusso della band, che proprio in quegli anni voleva provare a, se non reinventare, il sound dei suoi Lizzy, almeno a evolverlo.
Snowy si rivelò la scelta perfetta in questo, e quei due dischi oggi sono tra i più amati dai fan dei Thin Lizzy, ma all'epoca della loro uscita, il tocco blues caldo e molto vicino a quello di Peter Green sembrò una mossa davvero troppo azzardata. La faccia da bravo ragazzo poi lo rendeva più vicino a Peter Frampton, piuttosto che a un rocker in "odore" di NWOBHM, tanto che il suo sostituto sarà il biondo riccioluto John Sykes, con il quale i Thin Lizzy registrarono il loro ultimo roboante album 'Thunder & Lightning".
Nel 1983 Snowy pubblica il suo esordio solista "White Flames" che gli frutterà un hit con la lenta "Bird Of Paradise" che molto ha in comune con la celeberrima "Brothers In Arms" dei Dire Straits pubblicato nel 1985. Nel suo esordio convivono lo spirito rock vicino ai conterranei Wishbone Ash – "It's No Secret" o "Don't Turn Back" – lunghe cavalcate strumentali – "The Journey part 1 & 2" – e qualche goffo tentativo pop – "Lucky Star" – posto erroneamente a inizio disco.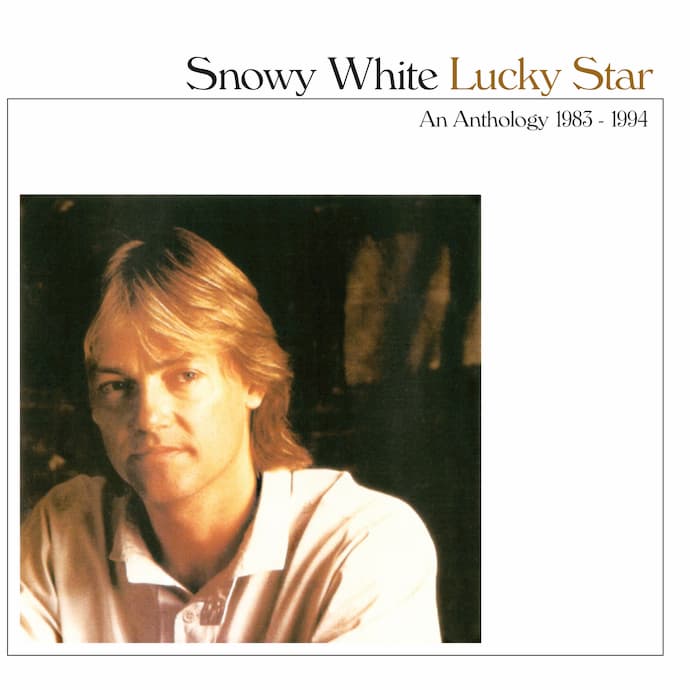 Forte del successo non cercato, nel 1984 il chitarrista pubblica il suo secondo omonimo disco che tenta di bissare il successo giocando la stessa formula musicale: yacht rock che aveva fatto la fortuna di Jim Capaldi (ex Traffic) e di un altro chitarrista inglese, Chris Rea. La pubblicazione è assai più curata e le canzoni non sono da meno, ma manca il singolo fortunato. "Peace On Earth" è fin troppo scritta a tavolino. Il "momento" è passato in un soffio e Snowy sembra non solo esserne cosciente, ma addirittura non spaventato; per "That Certain Thing" si prende tutto il tempo necessario e registra in diversi studi con la stessa formazione di sempre, a cui si affianca l'esperto session man pianista Max Middleton (già con Jeff Beck, Cozy Powell e Chris Rea).
Niente cambia, la formula è la stessa, ma c'è una maggiore consapevolezza di voler tentare di spostare il baricentro delle composizioni sul versante pop, senza relegare la chitarra e il tono caldo e blues di White troppo nell'angolo. La sua voce sembra più a suo agio sui toni morbidi e gli arrangiamenti raffinati, e le vendite premiano il disco con un minor hit che s'intitola "For You". La carriera di White potrebbe chiudersi qui, perché di fatto questo è il suo ultimo disco a poter contare su una produzione e una promozione internazionale.
Dal 1987 Snowy decide di tornare al Blues. Questo cofanetto ci offre l'occasione di ascoltare dischi che hanno avuto pochissima promozione e attenzione da parte del pubblico, ma che gli hanno permesso di dedicarsi esclusivamente alla chitarra lasciando il canto a Graham Bell. I due dischi della Snowy White's Blues Agency contenuti nel box vedono il nostro dedito a sole cover, tra cui spiccano una davvero sperimentale "Thrill Is Gone", il classico di Bukka White "Parchman Farm", e composizioni proprie molto vicine ai già citati Wishbone Ash nelle quali la voce di Graham Bell spesso fa la differenza, come nel caso della bella "Blues On Me" e nello shuffle violento di "Addicted Man".
Nella carriera di Snowy non è mai mancato il plauso e l'apprezzamento dei suoi colleghi chitarristi a partire da David Gilmour che scelse proprio Snowy per il primo tour di 'The Wall'. Ecco quindi spiegato il "regalo" che è il disco "Highway To The Sun". Regalo non solo per Snowy ma per tutti noi che ci ritroviamo ad ascoltare il nostro duettare con il già citato Gilmour ("Love, Pain & Sorrow"), Gary Moore ("Keep On Working") e Chris Rea ("Highway To The Sun") e suonare con John "Rabbitt" Bundrich all'organo e Paul Carrack ai cori. I 6 dischi del cofanetto sono ricchi di bonus tracks e out-takes, e corredati da un booklet davvero ricchissimo di informazioni e aneddoti.
Articolo di Jacopo Meille
Disc One "White Flames "(1983)
Lucky Star
Bird Of Paradise
The Journey Part OneThe Journey Part Two
Don't Turn Back
It's No Secret
Lucky I've Got You
The Answer
Open Carefully
At The Crossroads
Bonus Tracks
10. Broken Promises, B-Side Of Single (1984)
11. For The Rest Of My Life (Live)
Disc Two "Snowy White" (1984)
Land Of Freedom
Long Summer Days
Chinese Burn
Peace On Earth
The Water's Edge/Stepping Stones
So Breathless
Fortune
When I Arise
Bonus Tracks
9. Good Question
B-Side Of Single (1984)
10. Straight On Ahead
B-Side Of Single (1985)
11. I Can't Let Go
12. Rush Hour
A & B-Sides Of Single (1986)
13. Muddy Fingers
B-Side Of Single (1986)
14. Sky High, B-Side Of 12-Inch Single (1986)
15. Someone Else Is Gonna Love Me
Disc Three "That Certain Thing" (1987)
For You
That Certain Thing
Lonely Heart
This Heart Of Mine
I Can't Believe It
Walking Away
I'll Be Holding On
Voices In The Rain
Bonus Tracks
9. Snow Blues
B-Side Of 12-Inch Single
10. Let Go Too
11. Mai Tai
12. Birthday Blues
13. Only Woman
Disc Four "Change My Life" (1988) – Snowy White's Blues Agency
Woke Up This Morning
The Thrill Is Gone
You Know It Ain't Right
Change My Life
The Agency Blues
Judgement Day
Ooh-Wee Baby
The Rest Of My Life
Parchman Farm
The Agency Shuffle
Another Man
Bonus Track
12. No Place To Go
Disc Five "Open For Business" (1989) Snowy White's Blues Agency
I Can't Help Myself
Blues On Me
Out Of Order
When You Broke Your Promise
I Want Your Love
Out Of My Dreams
Addicted Man
Open For Business
Walking The Streets
Land Of Plenty
Bonus Tracks
11. Twister
12. Cat Flea Jump
Disc Six "Highway To The Sun" (1994)
Highway To The Sun
Can't Find Love
Burning Love
Loving Man
The Time Has Come
Heartful Of Love
Love, Pain And Sorrow
Hot Saturday Night
Keep On Working
I Loved Another Woman
I Can't Get Enough Of The Blues
Bonus Track
12. All My Money
Condividi su: