Soen "Imperial", Silver Lining Music 2021
Fuori il 29 gennaio per Silver Lining Music "Imperial", quinto lavoro in studio dei Soen, band svedese capitanata dall'ex batterista degli Opeth Martin Lopez. Le atmosfere del disco sono cupe e sognanti allo stesso tempo, ascoltandolo si ha l'impressione di essere trascinati in un vortice che sposta la mente verso luoghi lontani, antichi, puri e lasciarsi travolgere da questo incanto è piacevolmente naturale.
Il flusso del disco, sorretto magnificamente dalla voce potente e pulita di Joel Ekelöf, si amalgama con le ritmiche accurate della batteria, producendo un lavoro uniforme e continuo per tutto l'ascolto, una sequenza di brani che scorrono in una successione perfetta.
Come dichiarato dallo stesso Lopez, il periodo di pandemia e chiusura forzata, benché il lavoro fosse già quasi totalmente pronto da prima, ha fornito la possibilità di dedicarsi alla rifinitura del disco in maniera meticolosa, riuscendo a conferirgli il ritmo e il passo esattamente come era stato pensato dalla band.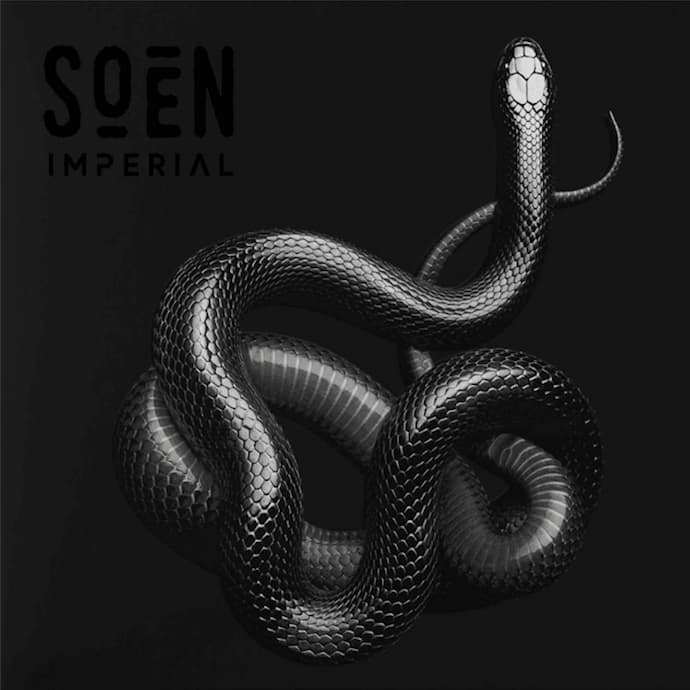 I brani godono di una produzione talentuosa e solida, le chitarre sono potenti e sempre presenti, a tratti molto evocative e contribuiscono efficacemente al brillante risultato finale.
"Lumerian", incipit di Imperial, non fa sconti a nessuno e si presenta subito con un intro poderosa di batteria e chitarre che lascia spazio alla voce quasi sospesa e carica di echi, culminando in un ritornello molto accattivante e capace di imprimersi nella memoria fin dal primissimo ascolto, dando subito un assaggio delle splendide linee melodiche impostate da Ekelöf anche per tutto il resto disco.
Domande dalle difficili risposte where do I heal when the river runs dry? How do I sweeter the bitter? trovano posto dentro la splendida "Illusion", ballad corposa e suggestiva. "Antagonist" poco dopo la metà del disco, pennellato di doppia cassa e chitarre metal è un brano dal sapore agrodolce, che mischia tratti frenetici a placidi momenti distesi, sapientemente strutturati. "Imperial" si chiude con "Fortune", un brano potente e solenne, e con un titolo del genere, il disco non avrebbe potuto concludersi in modo migliore.
I Soen si riconfermano band di assoluto livello con questo nuovo lavoro, mantenendo senza stravolgimenti, il loro approccio precedente a un sound riconoscibile e originale, perdendo ormai i riferimenti ad altre band quali Tool e Opeth, che avevano caratterizzato la prima fase della loro produzione.
Un ottimo disco davvero.
Tre le date confermate per adesso in Italia, posticipate a febbraio 2022, fra un anno esatto, nella speranza di poterli davvero assaporare di nuovo live.
Articolo di Alessio Pagnini
Tracklist "Imperial"
Lumerian
Deceiver
Monarch
Illusion
Antagonist
Modesty
Dissident
Fortune
Line up Soen
Joel Ekelöf – voce / Martin Lopez – batteria / Lars Enok Åhlund – tastiere e chitarra / Oleksji 'Zlatoyar' Kobel – basso / Cody Ford – chitarra solista
Condividi su: