The Dead Daisies "Holy Ground" – Spitfire/SPV 2020
The Dead Daisies nascono dal desiderio del miliardario David Lowy di dare sfogo alla sua passione per l'Hard Rock. Nati nel 2012, a oggi hanno pubblicato 4 album in studio, un live ufficiale e una moltitudine di singoli e EP. La formazione ha subito continui cambi di formazione, con nomi illustri che sono entrati e usciti nel corso degli anni senza che questo pregiudicasse il loro crescente successo. Quando sembrava che la stabilità fosse stata raggiunta è arrivata la notizia dell'entrata di Glenn Hughes alla voce e basso con la conseguente e inevitabile uscita del cantante John Corabi e del bassista  Marco Mendoza, due degli artefici, almeno per il sottoscritto, del successo della band.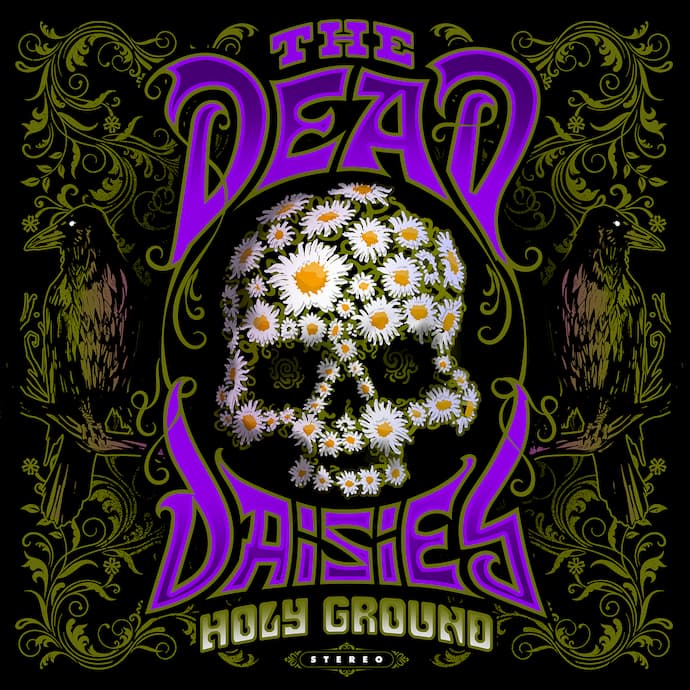 Sono sincero, alla notizia dell'arrivo di Hughes sono stato molto scettico. Comprendo perfettamente che il curriculum della band con lui si è accresciuto in modo sostanziale, e posso capire la gioia di Lowy a poter suonare accanto a una vera leggenda, ma al tempo stesso era inevitabile che il sound della band sarebbe quanto meno cambiato. Non solo: cose ne sarà del repertorio originale finora registrato? Ce lo vedete Mr. Hughes cantare e suonare "Make Some Noize" o "Mexico"? E aggiungo: The Dead Daisies era una BAND composta da musicisti esperti e ognuno con una sua storia alle spalle, ma tutti devoti all'idea di contribuire al successo e non a una conferma delle loro bravura. Nella mia mente invece serpeggiava il dubbio che i Dead Daisies sarebbero diventati la backing band dell'ex Deep Purple. L'ascolto di "Holy Ground" mi ha lasciato i dubbi.
Sia ben chiaro: è un ottimo disco di Hard Rock sanguigno, dai suoni potenti, cantato in modo impeccabile – e su questo non c'erano dubbi – ma, almeno alle mie orecchie, è un disco di Glenn Hughes e la sua nuova band. Una sorta di Black Country Communion più hard e sanguigna, vicina al sound di "Afterglow", e lontanissima da quanto finora pubblicato dalla band. Se questo non vi turba o disturba, avrete solo da godere dalle 10 canzoni più la cover di "30 Days In A Hole" degli Humble Pie che compongono il disco.
"Unspoken", il primo singolo è forse la canzone in cui i nostri sembrano avere un'anima comune, che invece scompare nella ruspante sì ma davvero troppo Hughes oriented  "Like No Other (Bassline)" o la funkeggiante "Come Alive". Lo spirito hard rock è intatto e ruggisce nel riff tellurico di "Bustle And Flow" ma non c'è più quello spirito tipicamente a stelle e strisce – leggi Aerosmith – che scorreva potente nelle canzoni dei dischi passati.
I fan di Hughes lo ameranno sicuramente anche perché Doug Aldrich è il chitarrista perfetto da affiancare a chi il Rock lo ha non solo masticato ma contribuito a definire, ma che dire dei fan dei Dead Daisies? E in generale, che senso ha aver lavorato così duramente per dare vita a una band con un suono seppur derivativo, personale, per poi sacrificarla per farla diventare una backing band di assoluto lustro ma sempre due passi dietro al leader e star indiscussa?
A voi rocker dare la risposta. Io attendo gli sviluppi e soprattutto di vederli dal vivo auspicando che i miei dubbi vengano cancellati.
Articolo di Jacopo Meille
Track list "Holy Ground"
Holy Ground (Shake The Memory)
Like No Other (Bassline)
Come Alive
My Fate
Chosen And Justified
Saving Grace
Unspoken
30 Days In The Hole
Righteous Days
Far Away
Line up The Dead Daisies
David Lowy – chitarra / Doug Aldrich – chitarra solista / Deen Castronovo – batteria / Glenn Hughes – voce e basso
Condividi su: