The Psychedelic Furs "Made Of Rain" – Cooking Vinyl 2020
I fratelli Butler e i loro Psychedelic Furs ritornano a pubblicare nuova musica e se non vogliamo considerare la traccia inedita contenuta nel loro live del 2001, "Beautiful Chaos: Greatest Hits Live", questo accade quasi trentanni dopo "World Outside" del 1991. "Made Of Rain" è il loro ottavo album in studio ed è in uscita il 31 luglio – dopo essere stato ritardato come molte altre uscite a causa della pandemia globale in corso – prodotto da Richard Fortus, già loro collaboratore, e mixato da Tim Palmer.
Dopo lo scioglimento avvenuto ad inizio anni '90 la band si è riformata nel 2000, ricominciando a suonare dal vivo. La popolarità acquisita a metà anni '80 non si era certo sopita e gli attestati di stima da parte della stampa, dei colleghi, da molti dei quali spesso citati come punti di riferimento e il continuo saccheggiamento del loro catalogo per usi cinematografici e televisivi ha sicuramente contribuito a mantenere vivo l'interesse per la band.
Sussistevano quindi tutti i presupposti per un ritorno discografico e gli Psychedelic Furs in questo album sembrano veramente una band vogliosa di proprorre qualcosa di nuovo, oltretutto coadiuvati da un team di lavoro di alta classe.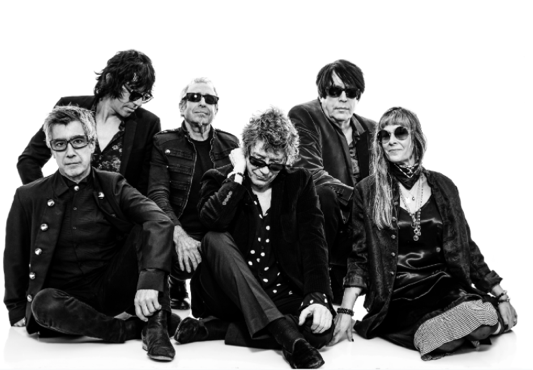 Quel gusto melodico e malinconico che ha caratterizzato la band fin dagli esordi non è andato perso, le dodici tracce contenute in "Made Of Rain" ne sono letteralmente pervase, a questo si unisce l'evocativa voce di Richard Butler e quell'eleganza negli arrangiamenti che adorna anche pezzi meno riusciti.
Un'oscura e martellante "The Boy Who Invented Rock'n'Roll" apre il disco, il ritornello è un po' statico ma è il suo scontro contro il tappeto di basso e sintetizzatori che dona carattere al brano fino alla coda strumentale impreziosita dagli inserimenti di sax. Un ritmo spezzato e dal sapore tribale guida tutta la seguente "I Don't Believe", un altro bel pezzo dove il cantato sembra trattenersi per meglio lanciare il ritornello.
Una dinamica e corale "You'll Be Mine" così come la seguente "Wrong Train" contribuiscono a mantenere viva l'attenzione dell'ascoltatore, fra chitarre acustiche e sferzate di distorsione la perenne lotta fra ombra e luce presente da sempre nella musica dei fratelli Butler si rinnova ancora una volta. "This'll Never Be Like Love" e la seguente "Ash Wednesday" abbassano di poco lo standard mantenuto fino a questo momento, seppur formalmente ben confezionati, soprattutto in "Ash Wednesday" il songwriting è un po' sotto tono.
Ci pensa "Come All Ye Faithful" a risollevare il tono dell'album, un pezzo che si svuota e si riempie in continuazione con la costante della voce di Butler  quasi annoiata ma accattivante al tempo. Verso la fine del disco arriva uno dei brani migliori della raccolta: "No One" possiede una melodia aperta e coinvolgente che si sposa a parole di disillusione e solitudine in tutta naturalezza, facendone un gran pezzo.
Un po' debole "Tiny Hands", ma "Hide The Medicine" torna su alti livelli, con un mid-tempo appoggiato su un arrangiamento di chitarre e tastiere che sfocia in un ritornello sospeso ed affascinante.
La chiusura è affidata a "Turn Your Back On me" un buon pezzo con un tappeto di elettronica e un groove rilassato che solo verso la fine cresce di dinamica, e alla conclusiva "Stars", un pezzo positivo, questi sono i giorni che ricorderemo canta Butler un ultima volta prima di affidare il finale alla distorsione e i feedback di una martoriata chitarra elettrica.
"Made Of Rain" non è un album perfetto e il materiale contenuto ha alti e bassi, segna però il ritorno degli Psychedelic Furs e dell'essenza stessa della band che è ancora presente, viva e vegeta, così come l'eleganza e lo stile. Nessuno al momento potrebbe chiedere loro di più.
Articolo di Andrea Bartolini
Track List "Made of Rain"
The Boy Who invented Rock'n'Roll

Don't Believe
You'll Be Mine
Wrong Train
This 'll Never Be Like Love
Ash Wednesday
Come All Ye Faithful
No One
Tiny Hands
Hide The medicine
Turn Your Back On Me
Stars
Line up Psychedelic Furs
Richard Butler – Vocals
Tim Butler – Bass
Paul Garisto – Drums
Rich Good – Guitar
Amanda Kramer – Keyboards
Mars Williams – Saxophone
Condividi su: