Typhoon "Sympathetic magic", Roll Call Records 2021
Il 22 gennaio, senza nessun preavviso, i Typhoon hanno pubblicato un nuovo album, "Sympathetic magic", su Roll Call Records. La musica prodotta dall'ormai affermata band di Portland mi provoca sempre l'impressione di assistere a un evento naturale – appunto come un tifone – e vederlo compiersi in tutta la sua bellezza, qualcosa di meraviglioso in cui si cela una potenziale capacità distruttiva.
Dal debutto "Hunger and Thirst" a oggi la band ha sempre messo in mostra un ampissimo ventaglio d'influenze, come il Gospel, il Post-rock, il Bluegrass e la musica Ambient, orchestrate e guidate dalla voce, dal chitarrismo e dall'emotività del leader Kim Morton. La discografia dei Typhoon, piuttosto che una vera e propria evoluzione, ha visto in ogni disco una diversa declinazione di queste influenze, operazione agevolata dai moltissimi membri che la compongono, attualmente 10, e dagli strumenti più disparati suonati, come i violini, l'hukulele e le trombe.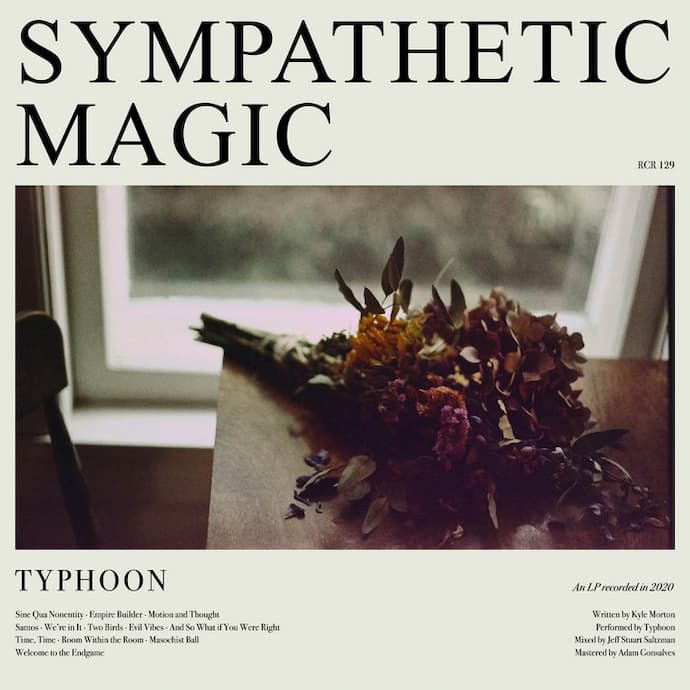 "Sympathetic Magic", che a detta del cantante è stato un appiglio di felicità in questi mesi di isolamento forzato, nonché una gioia da condividere in tempi in cui non si può facilmente condividere qualcosa, vede quasi completamente accantonare la componente elettrica in favore di quella più acoustic folk e sinfonica, a eccezione della chitarra elettrica o le tastiere presenti in certi fraseggi, prendendo quindi le distanze dal precedente album "Offerings", molto Radiohead-oriented.
Le 12 tracce che compongono l'album, come da tradizione Typhoon, nel loro incalzare oscillano tra momenti di tragicità, momenti di pace e momenti di euforia, effetto che all'ascolto risulta casuale ma ha uno schema di fondo, lo stesso che da una coerenza complessiva al lavoro. Importantissimo nei brani è il ruolo delle seconde linee, che col loro operato danno colore a tutto, come a esempio il lavoro del percussionista Devin Gallagher o le seconde voci delle due violiniste.
L'album apre con "Sine qua nonentity" e il suono di un moog e di una tromba all'unisono, per un brano poi dominato dai violini e dalla voce. Nella successiva "Empire building" la batteria fa da padrona, con un beat sincopato, interrotto solo dai violini e dalla chitarra di Norton. "Motion and Trought" sembra essere la conclusione della precedente, con un coro finale che mette in mostra la radice gospel dei nostri.
"And so what if you were right" e "Time, time" rompono un po' la vena sinfonica dei precedenti brani ritornando sui binari di un fragoroso Acoustic folk, si reggono entrambe quasi completamente sul suono della chitarra acustica. Da questo brano abbiamo un po' il ripetersi delle formule sentite nelle precedenti tracce fino alla conclusiva, "Welcome to the endgame" nella quale voce, tastiere e violini, conclude in maniera delicata il lavoro.
Con quest'ultimo lavoro i Typhoon hanno messo un altro tassello di spessore al loro percorso artistico. "Sympathetic magic" è un album che potenzialmente potrebbe essere ascoltato all'infinito, vista la cura nella scrittura delle parti e la fantasia nella composizione dei brani, offrendo all'ascoltatore spunti sempre diversi.
Articolo di Giorgio Cappai
 Tracklist "Sympathetic magic"
Sine Qua Nonentity
Empire Builder
Motion and Thought
Santos
We're In It
Two Birds
Evil Vibes
And So What If You Were Right
Time, Time
Room Within The Room
Masochist Ball
Welcome to the Endgame
Line up Typhoon
Kyle Morton – Voce, chitarra, piano/ Toby Tanabe – basso,voce/ Dave Hall – chitarra,voce / Tyler Ferrin – corno, tastiere,chitarra, voce Pieter Hilton / Devin Gallagher – percussioni,hukulele, voce / Eric Stipe – voce,tromba / Pieter Hilton – voce, batteria/ Ale Fitch – voce, batteria/ Shannon Steele – voce, violino / Ben Morton – chitarra.
Condividi su: