Andrea Salini "Roses" – Luwolbo Free Musica 2020
"Roses" è il nuovo e quarto album di Andrea Salini, scritto e prodotto dall'autore insieme al multistrumentista Simone Gianlorenzi e con la collaborazione di Silvia Leonetti, mixato da Fabrizio Simoncioni che aveva già mixato il precedente "Lampo Gamma" del 2017.  Proprio come il precedente album continua il corso del cantato in inglese. a differenza dei primi due album quasi interamente cantati in italiano.
Il Rock di Andrea Salini presenta varie sfaccettature, sapori punk e grunge si mischiano a velleità classic rock, dovute alla passione per il chitarrismo di Hendrix e Blackmore, mentre la sua voce canta di donne, vita e musica.
La rosa, simbolo di bellezza ma anche di forza, ricorre sovente in questo lavoro a partire dal titolo e dall'immagine di copertina – creata da Eleonora Selle – fino ai titoli delle composizioni. Su tutti i brani spicca proprio il singolo "Roses", un pezzo accattivante che musicalmente richiama tanto ai Thin Lizzy per il lavoro delle chitarre quanto ai Social Distortion, un nome che viene in mente anche ascoltando il pezzo "Irina" una storia di donne, coraggio ed emancipazione, trascinante e con un ritornello davvero indovinato.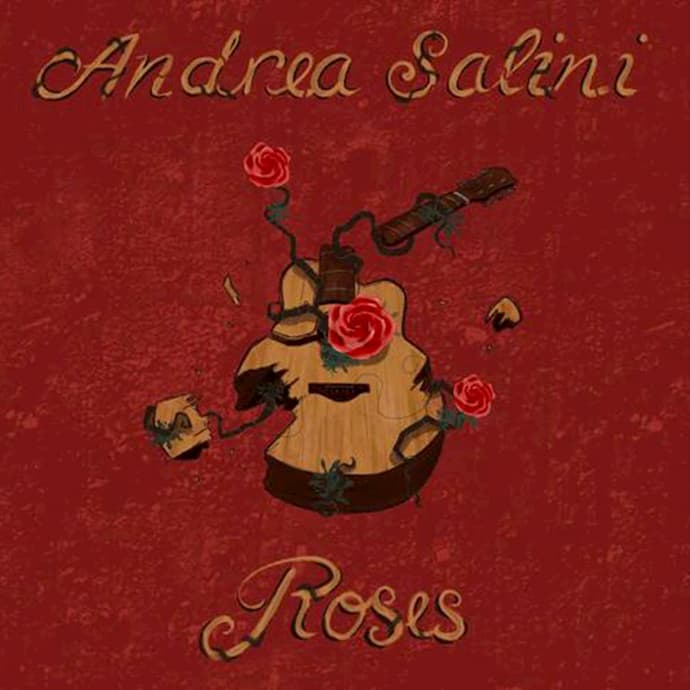 Un'altra faccia di Andrea Salini la si può scoprire nell'opener "Into The Storm", una sentita metafora della vita degli artisti e delle persone in genere e delle difficoltà che devono attraversare tutti i giorni come in una tempesta, resistendo alla furia degli elementi per poter riuscire a rivedere il sole. Un brano che inizia con un canto tribale pellerossa per poi lanciarsi in un torrido riff hard rock che si placa solo nella strofa e nel ritornello a più voci, molto bella la parte finale con chitarre acustiche e Dobro, un inizio potente e intenso.
La ballata "Rock'n'Roll Dreamer" ci regala un suono più crepuscolare, abbellito da chitarra slide e pianoforte mentre la voce di Andrea narra ancora una volta di sogni di un inequivocabile genere musicale. L'album lascia spesso che sia solo la musica a parlare ed ecco quindi due strumentali, "Starfighter", un bel pezzo che lascia spazio alla chitarra solista su una ritmica dalle sonorità moderne dal sapore fusion, mentre "The Name Of The Rose" è una composizione eseguita al solo piano che chiude l'album.
Il soul funk urbano di "Take You Back" non è altro che una riuscita rivisitazione del famoso pezzo di Bill Conti, originalmente eseguito a cappella e contenuto nella colonna sonora del primo famoso episodio della saga di "Rocky", una riuscitissima cover che fa il paio con la seguente "Love Song", un brano dalle sonorità aperte e corali.
Un ottimo album che conferma il talento di Andrea Salini: "Roses" è come un libro che si legge tutto di un fiato, un lavoro spontaneo e appassionato.
Articolo di Andrea Bartolini
Track list "Roses"
Into The Storm
Irina
Rock'n'roll Dreamer
Verum Rosa
Roses
Starfighter
Take You Back
Love Song
The Name Of The Rose
Line up Andrea Salini
Andrea Salini – Vocals, Electric guitar
Simone Gianlorenzi – Electric and acoustic guitar, dobro, lap steel, bass, mandolin
John Macaluso – Drums
Gerry Duni – Backing vocals
Silvia Leonetti – Piano, orchestration
Pino Saracini – Bass on "Take You Back"
Carlo Di Francesco – Percussion on "Take You back"
Mariangela Gritta Grainer – Narrating voice on "Verum Rosa"
Condividi su: