The Pineapple Thief  "Nothing But The Truth" live streaming, 22 aprile 2021
Ci sono band per le quali la pandemia mondiale sembra quasi non incidere, non pesare, e un caso emblematico sono The Pineapple Thief. Usciti nel settembre 2020 con l'ultimo splendido album, "Versions Of The Truth" (qui la nostra recensione), non hanno perso tempo a leccarsi le ferite per il tour rimandato tanto che il leader, Bruce Soord (qui la nostra intervista), è tornato subito alla ribalta con "The Soord Sessions Vol 4", live-solo in acustico con il quale ha voluto star vicino alle migliaia di fans rimasti delusi dalle date posticipate.
Evidentemente non era abbastanza perché il combo, non pago, ha deciso di affrontare anche l'ardua prova del live streaming full-band, con un progetto dal titolo "Nothing But The Truth", andato in scena (per tutti coloro che hanno acquistato il biglietto) giovedì 22 aprile. Rock Nation non poteva mancare all'appuntamento, ed eccomi allora a seguire, per la prima volta in assoluto in vita mia, un evento ufficiale dal vivo ma distanziato.
Sto per cliccare sul link e, davvero, non so bene cosa aspettarmi, quanto possa prendermi il format. Certo, ho ancora freschi nelle orecchie gli ultimi due lavori dei The Pineapple Thief, e questo mi rende fiducioso. Dunque lascio andare le ultime remore e mi abbandono alla visione. L'inizio è affidato alla camera che, piano, si muove sulla band immersa in una leggera nebbia evocativa, un passaggio dolce che accompagna l'incipit di "Versions Of The Truth".
Il gruppo è concentrato, affilato, calibrato al millimetro, attento al tocco, al tecnicismo così come all'espressione, che è poi l'elemento che fa sempre la differenza nei live. I binari che circondano sia l'intera formazione, sia il front-man Soord (al centro di un simbolico doppio cerchio energetico), fanno in modo che le riprese ci facciano letteralmente circondare i musicisti, permettendoci di seguirli in ogni micro-atteggiamento, in ogni micro-espressione.
Prima considerazione, allora, evidente: questo effetto un live tradizionale non è in grado di renderlo. E non che voglia permettermi di fare paragoni, figuriamoci, lo streaming non potrà mai eguagliare l'impatto dal vivo in presenza. Ma è un dato di fatto che questa forma di proposta abbia anche dei pregi, nonché delle novità di cui poter godere. Dico: accontentiamoci, per una volta, senza stare a far sempre le lagne. Ad esempio, il controllo in termini di equilibrio sonoro, di resa nel bilanciamento voce principale/voce secondaria che riusciamo ad apprezzare all'inizio di "In Exile" (da "Your Wilderness", 2016), difficilmente sarebbe riproducibile sul palco classico. Un passo indietro di quasi un decennio, e siamo a "Warm Seas" (da "All The Wars", 2012), momento in cui risulta netta la crescita interpretativa di Bruce dietro il microfono, un miglioramento sia nella grana della voce che nella tenuta tecnica.
La gustosa regia di George Laycock e il dinamico montaggio a opera di Blacktide Phonic/Visual Production ci regalano belle emozioni, nonché piacevoli planate sulla batteria magistralmente condotta da Gavin Harrison, che si dimostra fondamentale nella caratterizzazione del piglio sonoro: un batterista capace di essere conciso e secco, quanto ultra tecnico e cervellotico. Mai scontato. Mai un colpo messo male. "Our Mire", tratta dall'ultimo disco, scorre via liscia, decisa, ritmata, con la band ormai sciolta, l'adrenalina iniziale addomesticata in una presa più salda.
Ed è il momento di "Demons", primo singolo estratto da "Versions Of The Truth", sorprendente nella sua versione più soft, meno d'assalto, ma non per questo meno efficace. Si resta ancora nel 2020 con "Driving Like Maniacs", che parte lasciando d'incanto per l'eccellente armonizzazione vocale del bassista Jon Sykes, ugola d'oro e pedina fondamentale per la resa melodica. Il brano procede lungo la stessa linea di rimpianto evocata dall'originale, riuscendo a esaltare ancor di più le malinconiche liriche scritte dalla penna di un Soord molto ispirato.
"Someone Pull Me Out of Here", un altro estratto da "All The Wars", sembra accodarsi al precedente momento riflessivo, onde aprirsi d'improvviso nel ritornello potente e carico, che grida l'urgenza del titolo e si articola in un'alternanza distorto/pulito sempre calibrata, che sfida la precisione da studio. "Break It All" fa emergere il lato più rock dell'ultima fatica, grazie a un chitarrismo granitico e arrembante; ed è interessante come la band risulti perfettamente credibile anche in tale veste. "White Mist" (da "Dissolution", 2018) è struggente sin dall'attacco, e si concede un break molto interessante in cui i riverberi si fondono alle ripetizioni del synth.
L'ultima canzone estratta dal lavoro più recente è "Out Of Line", leggera e mesta, dà la splendida opportunità a Soord di blueseggiare con un paio di bei soli, e valorizza il punto di forza della band: far coesistere la classicità con la modernità.
"Wretched Soul" (da "8 Days Later", 2004) ha la capacità di catturarti del tutto, facendoti entrare nei suoi intrecci sonori, intrappolandoti. "Threatening War" (ancora da "Dissolution") in questa versione live sembra davvero avere 3 anime distinte, uniche e indipendenti, eppure legate dal medesimo cuore. Chiude il live "The Final Thing on my Mind" (di nuovo da "Your Wilderness"), una cavalcata libera di 10 minuti che termina sugli armonici delicati dell'acustica e suggella una proposta dal vivo di altissimo livello.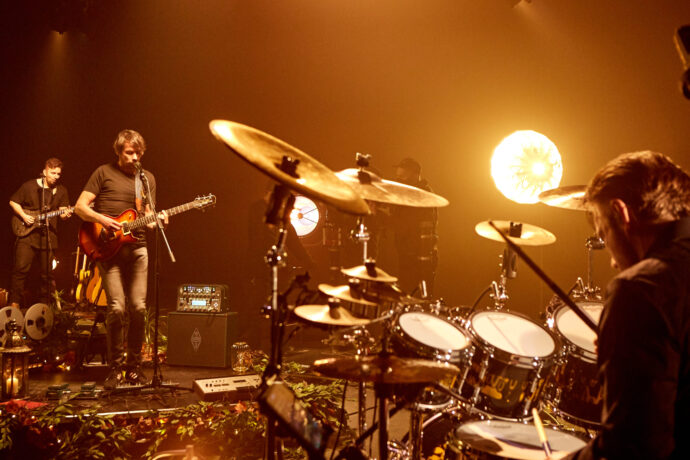 Senza esitazione, mi sento di affermare che "Nothing But The Truth" merita di essere visto, e merita il pagamento del biglietto. Distanza o meno. Perché la classe di una band risuona senza alcun problema anche attraverso i cavi dello streaming, arriva fino allo schermo del PC e lì t'inchioda, ti fa battere il piede e fa sognare, facendo svanire le pareti della camera in cui ti trovi.
E scusate se è poco.
Articolo di Simone Ignagni
Set list
1. Versions of the Truth
2. In Exile
3. Warm Seas
4. Our Mire
5. Demons
6. Driving Like Maniacs
7. Someone Pull Me Out of Here
8. Break It All
9. White Mist
10. Out Of Line
11. Wretched Soul
12. Threatening War
13. The Final Thing on my Mind
Line up The Pineapple Thief
Bruce Soord – Voce, Chitarra
George Marios – Chitarra, Voce
Steve Kitch – Tastiera
Jon Sykes – Basso, Voce
Gavin Harrison – Batteria
The Pineapple Thief Online
Website – http://www.thepineapplethief.com/
Facebook – https://www.facebook.com/thepineapplethief
Instagram – https://www.instagram.com/thepineapplethief/
Twitter – https://twitter.com/pineapplethief
Spotify – https://open.spotify.com/artist/4lrBMUSk8PiNnCEZfsmPAk
YouTube – https://www.youtube.com/playlist?list=PLE6401DB011BD837E
Apple Music – https://itunes.apple.com/gb/artist/the-pineapple-thief/id278648772
Condividi su: